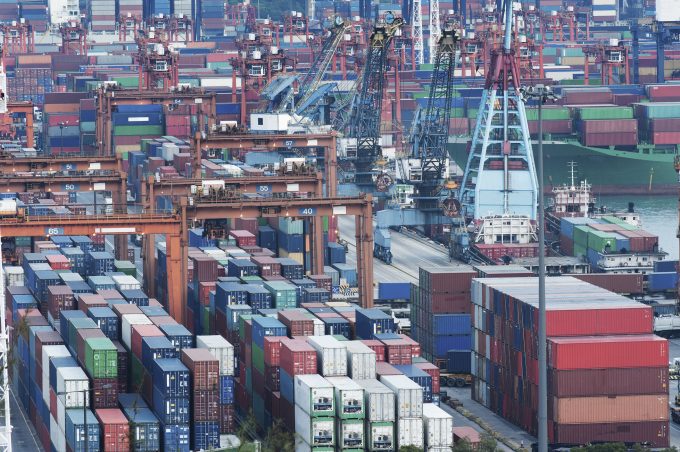 MSC and CMA CGM are set to join Maersk Line in the TradeLens blockchain project it is developing with computer giant IBM.
The move will see both companies take a seat on the TradeLens advisory board and each operate a blockchain node.
It marks a new chapter of collaboration between container shipping carriers, said André Simha, chief digital & information officer at MSC.
"Digital collaboration is a key to the evolution of the container shipping industry. The TradeLens platform has enormous potential to spur the industry to digitise the supply chain and build collaboration around common standard.
"We think the TradeLens Advisory Board, as well as standards bodies such as the Digital Container Shipping Association, will help accelerate that effort," he added.
Rajesh Krishnamurthy, executive vice president of IT & transformations at CMA CGM, said: "We believe TradeLens, with its commitment to open standards and open governance, is a key platform to help usher in the digital transformation.
"TradeLens' network is already showing that participants from across the supply chain ecosystem can derive significant value," he said.
TradeLens said it now had more than 100 participants on the platform and is processing over 10m discrete shipping events and thousands of documents each week, claiming it was "providing shippers, carriers, freight forwarders, customs officials, port authorities, inland transportation providers and others a common view of transactions, which can build trust".
Bridget van Kralingen, senior vice president of global industries, clients, platforms & blockchain at IBM, added: "The major advances IBM continues to make in blockchain illustrate that the technology is fostering new business models and playing an important role in how the world works.
"More than a hundred participants have put their trust in the TradeLens network and are gaining greater transparency and simplicity in the movement of goods. Together we are advancing a shared aim to modernise the world's trading ecosystems."
One major shipper welcomed CMA CGM and MSC to the project. Michelle Eggers, director global logistics purchases at Procter and Gamble, said: "P&G ships a significant volume of ocean containers every year. Whether filled with our products or the materials used in production, understanding the status of our containers helps us manage an efficient supply chain.
"We are convinced that the industry will benefit from the transparency and accuracy of blockchain solutions and we are pleased to see MSC, CMA CGM and Maersk all on the TradeLens platform.
"We have been testing TradeLens for the P&G business and see potential as the solution scales. We look forward to industry-wide adoption to benefit all network members."