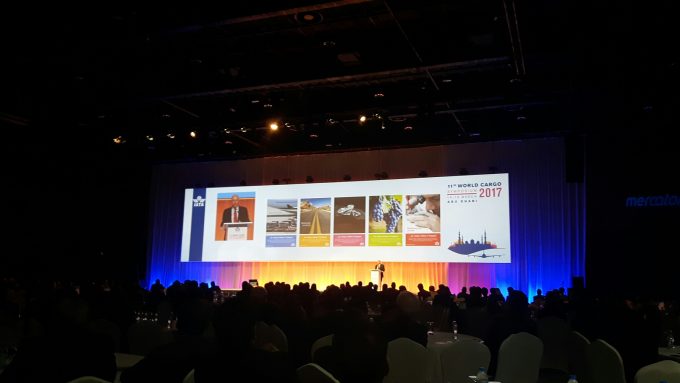 An upbeat air cargo industry is this week celebrating a return to growth and noted positive structural changes that had seen some goods switch to air.
But the mood was tempered by political "protectionist rhetoric" and the possibility of trade wars.
Speaking this morning at the World Cargo Symposium in Abu Dhabi, George Anjaparidze, IATA's senior economist, noted that while world trade remained weak last year, it was outperformed by air cargo for the second time since 2010.
"There is room for cautious optimism for a moderate acceleration of growth," he said.
"The US economy is strong, there is normal inflation and broad growth. But risks do exist", he warned, citing an "unorderly implementation" of Brexit, and the possible rise of populist parties in the EU, as well as trade wars.
"But the upside has a higher probability," he added. "The purchasing managers' index looks particularly favourable, which is good in the short-term, and consumer confidence is good in the medium term."
He warned however, that while yields were stable, "the profitability outlook is under strain".
"Yields have been stable … but they were 6% lower in the fourth quarter of 2016 than in 2015. Capacity increases have made it hard for yields to keep up with [rising] jet fuel prices."
The industry has also undergone structural change.
While global economic factors could contribute to growth, air cargo's heady days of serious growth are unlikely to return, as the industry has matured, said Marco Bloemen, partner at Seabury. But again, he added, there were areas for optimism.
While air and sea freight saw growth diminish substantially after the 2007 economic crisis, with air freight growth down to 0.9% between 2007 and 2016, and sea freight down from 9% growth before 2007 to 2.5% since, other sectors had improved. Parcels by mail grew from 2.4% to 10.5% in the same period.
And, Mr Bloemen noted a shift in the commodities using air cargo – some that hadn't previously moved by air.
"Hi-tech is no longer a growth industry – in fact it's going down," he said. "But there are some other fast-growers, such as raw materials, such as milk powder, and perishables."
Of a total of 21m tonnes, air cargo lost 500,000 tonnes of computers and parts – but added that in fresh food.
"This has an impact on how trade flows," he said.
He pointed out that computer parts and laptops had been replaced by cellphones and semi-conductor products, "but not enough to offset hi-tech decline," he added.
But express had seen 5% annual growth in the last six years. "It's on a steep growth curve and we are not seeing maturity yet. It doubled in air alone between 2015 and 2016.
"Alibaba sells all kinds of stuff – not just consumer goods, but parts, things which shouldn't travel by air but do, because it's ecommerce."
But while this modal shift was much welcomed by the air freight industry, Mr Bloemen also warned of the threat from rail.
"500,000 tonnes was shipped by rail last year. This are volumes we can no longer ignore. It's a serious flow and here to stay. Most of those volumes will come from ocean, but some will come from air."
Meanwhile, new IATA chief Alexandre de Juniac, who was surprisingly well-versed on cargo, noted that IATA had been lobbying "relentlessly".
"In many parts of the world we have seen political rhetoric that could impact borders  trade and travel. We are heavily concerned, as it is bad news for the industry recovery."
He also called for faster digitisation, and urged governments to impose "significant fines and custodial sentences" on those violating dangerous goods regulations to allow the safe transport of lithium batteries.