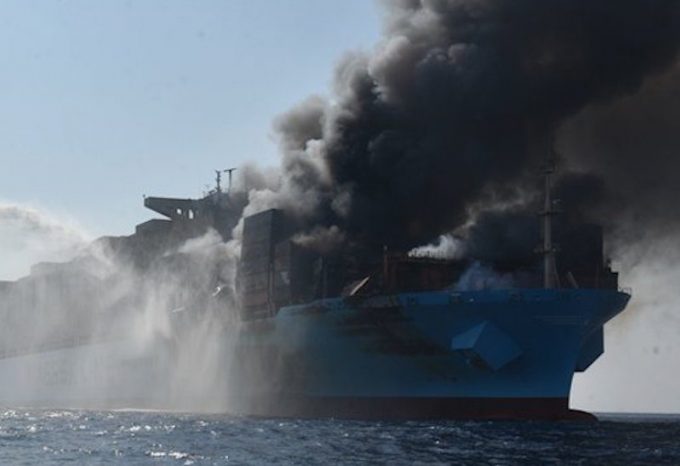 Maersk Line is launching what it claims is an alternative to cargo insurance in response to the rising number of shipments consigned without cover.
According to the carrier, some 30% of cargo moved by sea is uninsured, but one source told The Loadstar this figure is could be overly conservative.
"In my experience, the actual percentage of shipments travelling without insurance is far closer to the 50% mark," said the source.
"The only time this becomes an issue is when a problem arises, but when it does, it is usually quite significant."
In March, five crew members died following a fire on the Maersk Honam and yhe source suggested the impetus behind the launch of Maersk's Value Protect was to prevent a repeat of the cost heaped on the carrier as a result of uninsured shipments.
"That [Maersk Honam] has to have been responsible for the biggest general average in history and the carrier says 30% of the cargo was uninsured," said the source.
However, a Maersk spokesperson told The Loadstar the incident was not the catalyst: "The incident aboard Maersk Honam was not the impetus for Value Protect, but the wish to meet our customers' needs and expand our commercial offerings,"
General average (GA) groups line and the cargo owners as a "venture" and expenses incurred from an incident during a voyage are shared. Under maritime law, the cargo owners, by way of bills of lading, are contractually responsible if problems arise, but there are no stipulations surrounding insurance.
"Carriers could take the party to court for breach of contract when they are unable to pay the GA, but they usually lack the money or assets to make this worthwhile," the source said. "You can see the logic behind Maersk's decision, but it has not said what the cost will be and if it covers all eventualities – it could be more than the cost of the cargo itself."
Maersk said Value Protect would cover cargo loss or damage from a range of incidents such as fire, accidents due to danger of the sea, theft and natural disasters. Cyber incidents, cargo damage caused by delay and contributions in general average – excluded under conventional terms of carriage – would also be covered.
The carrier's head of logistics, Klaus Rud Sejling, said: "We take care of every container we transport, yet, some events might be outside of our control, like extreme weather or perils of the sea that may result in cargo loss or damage. International conventions limit carriers' liability and set potential pay-out limits.
"By purchasing Value Protect, customers will have peace of mind, so even if an unpredictable event should happen, they can rest assured knowing their business is protected," he added.