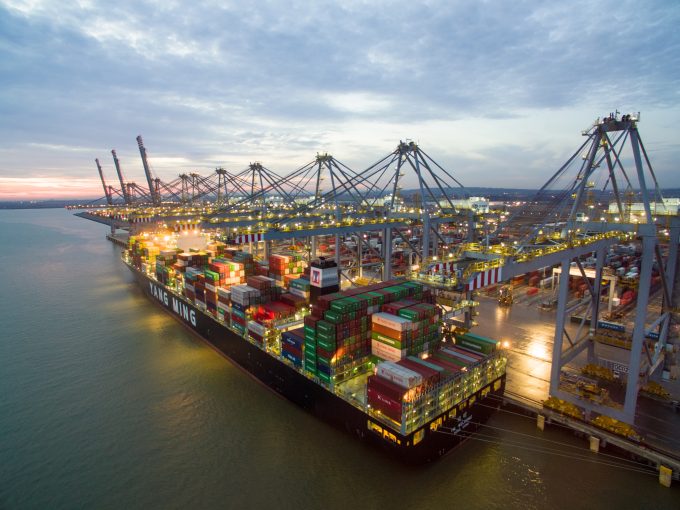 UK port London Gateway is expected to announce that it has won its first Asian liner service, just over three years since the first phase of the DP World facility was opened.
A source from a carrier member of THE Alliance told The Loadstar yesterday "agreement had been reached" for two of its five Asia-North Europe loops to call at London Gateway and that this would be confirmed shortly by an official announcement from the grouping.
An Alphaliner report last week stated that THE Alliance's other three loops would make a UK call at DP World Southampton.
THE Alliance members, Hapag-Lloyd, Yang Ming and soon-to-be-merged K Line, MOL and NYK, published their pro-forma east-west network in November, but several port calls were not nominated, including UK and Baltic hubs.
The network  comprises 240 vessels on 31 loops calling at 75 ports.
Executives at London Gateway did not respond to a request for confirmation, while alliance lead line Hapag-Lloyd told The Loadstar yesterday it was "still too early to confirm", but indicated that details of its UK hubs would be advised soon.
One UK forwarder that currently books with a Japanese line through the port of Felixstowe told The Loadstar recently he was "a bit surprised that a decision (on a UK port) had not been reached" by THE Alliance.
Indeed, given that only seven weeks remain before THE Alliance is officially launched on 1 April, the decision on UK terminals is needed to allow stakeholders and service providers such as hauliers to adjust their coverage.
And as the G6, CKYH and Ocean 3 alliances begin the complex process of dissolving partnerships and dovetailing into the two new Ocean and THE groupings, shippers are likely to see some initial disruption.
There is very little information on carrier websites to help shippers through the biggest ever alliance shake up, and this lack of clarification is likely to benefit the rival 2M Alliance, which yesterday announced a capacity increase on the Asia-North Europe and Asia-US east coast routes from 1 April.
Maersk Line and MSC said the two extra services were to accommodate additional liftings from new slot charter deals with Hyundai Merchant Marine (HMM) and Hamburg Sud, but it is also being interpreted as a "shot across the bows" in a new alliance battle for market share.
According to Alphaliner, Le Havre will lose three weekly calls following the alliance reshuffle, from eight to five; Rotterdam will see its weekly calls reduced to 12 from 14; Hamburg drops one call to 10; while Felixstowe goes from five calls to four.