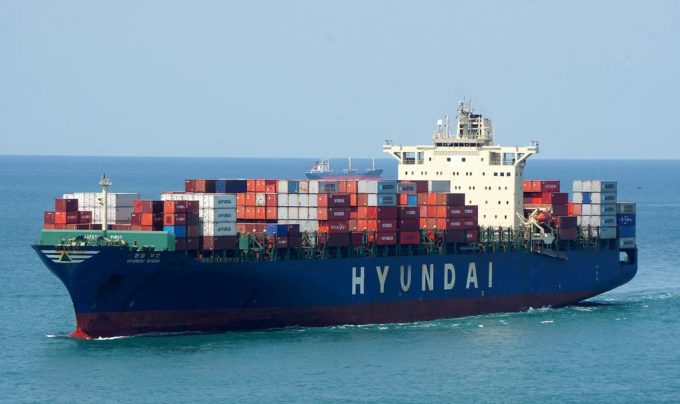 South Korean flagship carrier HMM is to charter two 7,700 teu containerships reportedly ordered from HJ Shipbuilding & Construction by Navios Maritime Partners .
The carrier informed Korea Exchange on Monday it had agreed to charter a pair of 7,700 teu ships with an expected delivery in H2 24 until the end of 2038.
An HMM spokesperson said the company had not decided where to assign the newbuildings and would not confirm the charterer.
But on Wednesday, Angeliki Frangou-led Navios Partners announced it had ordered a pair of 7,700 teu ships for $241m, for delivery in Q4 24, and that the ships, which could be powered by either LNG or fuel oil, had been chartered-out for 12 years, at an average net daily rate of $42,288.
The charterer has an option to extend the charter for an additional two years, at a net daily rate of $24,875.
Navios added that the charterer had also agreed to extend existing charters on two 6,800 teu vessels currently expiring in Q4 23 for seven months at $43,944 net a day, with other options available.
Checks show HMM has chartered five 6,800 teu ships from Navios Partners, Hyundai Busan, Hyundai Hongkong, Hyundai Shanghai, Hyundai Singapore and Hyundai Tokyo. They serve routes connecting East Asia to India, South America, Canada and the US west coast.
The newbuilding contract gives Navios Partners options for two more vessels, for delivery in Q2 25 but did not disclose the shipyard. However, yesterday, HJ Shipbuilding announced it had won an order for two 7,700 teu ships from a European customer for delivery in late 2024. The ships are priced at $241m and come with options for two more vessels.
HJ Shipbuilding, was formerly Hanjin Heavy Industries & Construction but renamed in July 2021, after a consortium led by South Korean construction firm Dongbu Corp acquired a controlling stake from the shipbuilder's creditors, led by the state-run Korea Development Bank.