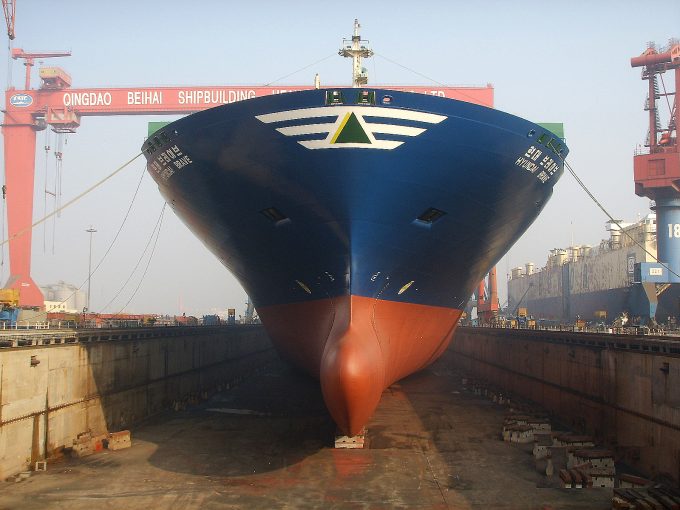 Hyundai Merchant Marine (HMM) announced today it is to join the 2M alliance in April next year.
Signing a memorandum of understanding to join Maersk and MSC in the the alliance marks another seismic step in HMM's recovery from the brink of bankruptcy.
Membership of a major east-west alliance was the final condition of HMM's creditors in the South Korean shipping group's colossal debt restructuring, after having satisfied its main creditor, Korean Development Bank, last month that it had achieved its charter hire cost reduction target.
In a statement, the line said: "With today's announcement, HMM has successfully completed all conditions set out in the voluntary agreement with creditors."
It added that its $2.2bn share sale and debt-to-equity swap with creditors, scheduled for 5 August, "will be executed as planned".
If take-up is successful, it would see HMM's debt-to-equity ratio plunge to around 200%, and allow the carrier to tap into a new Korean government shipping fund to, potentially, order new ships.
KDB said that once HMM's business was "normalised" the carrier would reshuffle its organisation and invite consultants to advise on restructuring its fleet, and improve its competitiveness "by ordering new mega- and high-efficiency ships".
The Loadstar understands that senior HMM and KDB executives are currently travelling to meet major customers around the world to reassure them of the financial security of the "new HMM".
HMM was excluded from membership of the THE Alliance, due to its dire financial situation, but continued to insist that it was "only a matter of time" before it became a partner. However, it is understood that HMM's membership was ultimately vetoed by compatriot carrier Hanjin and Japan's K Line.
The industry was then taken by surprise that the successful Maersk and MSC partnership was prepared to start discussions with HMM over inclusion in the 2M alliance, with some observers questioning the benefits for the 2M and speculating that it could be a precursor to a takeover by Maersk.
"These carriers are not obvious partners, in terms of culture, size or trade mix," said Drewry, but added that the 2M "would not enter into something they didn't think would benefit them in some way".
However, some analysts suggest the European lines' foothold in Asia would be reinforced by taking the South Korean carrier into the 2M fold, and Maersk said today it would boost the alliance's network coverage on the transpacific trade, where HMM has an estimated 4.4% of capacity.
And in recent weeks, HMM has shown its ambition and aggression on other trades, such as Asia-Middle East, with vessel upgrades and a new service.
A Maersk Line spokesman told The Loadstar this morning: "We can confirm that we – 2M – have signed an MoU with Hyundai on HMM joining the 2M vessel-sharing agreement when its membership of the G6 alliance expires in 2017.
"The inclusion of HMM in 2M would provide us with extended coverage and a stronger product in the transpacific trade.
"We will now advance the negotiations, and we do not wish to comment further until there are any substantial developments."