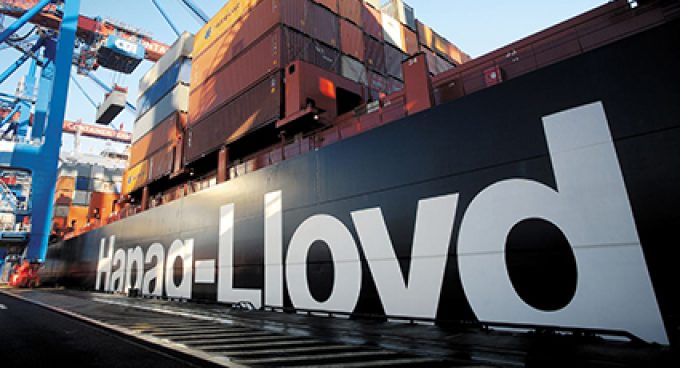 Future income at today's levels is secure, said Hapag-Lloyd as the carrier recorded bumper profits for Q2 – even as demand ebbed and spot rates fell.
"We don't see demand falling off a cliff anywhere," CEO Rolf Habben Jansen told analysts this morning as the carrier posted a record $4.8bn Q2 profit.
He said US consumer demand seemed to be "holding up reasonably well", whereas "certainly in Europe and some other places, there is probably more nervousness".
Overall, he added, there were "definitely signs of markets cooling down" and that he expected "the trend of falling spot rates to continue".
Hapag-Lloyd transported just over 3m teu in Q2, which was flat compared with the previous year, but was more robust than Maersk, which reported a 7.4% decline, while its THE Alliance partner, ONE saw a 5% fall in its carryings.
Turnover for the quarter was $9.6bn, for an average revenue of $2,935 per teu, which was up 71% on Q2 of last year, and compares well with the $2,491 per teu average achieved by Maersk.
Net profit for Q2 was $4.8bn, for an interim H1 result of $9.5bn, which was 188% higher than the profit in H1 last year.
On 28 July, Hapag-Lloyd raised its 2022 profit guidance by $5bn, to a range of $17.5bn to $19.5bn, which, based on its H1 ebit of $10bn, suggests it expects a very good Q3, with earnings tailing off in the final period.
"We have benefited from significantly improved freight rates and look back on an extraordinarily strong performance, on the whole, in the first half-year. At the same time, a steep rise in all cost categories is putting increased pressure on our unit cost," said Mr Habben Jansen.
Moreover, he said, the industry faced "considerable uncertainty, given the war in Ukraine, ongoing disruptions in supply chains and the impacts of the Covid-19 pandemic".
He added that global supply chains remained "under significant pressure, due to persistent capacity bottlenecks in ports and congested hinterland infrastructures, which is resulting in longer turnaround times for ships and containers".
Based on the arrival in China in the second half of July of six THE Alliance sailings from North Europe surveyed by Alphaliner, the average round-trip voyage delay was a huge 30 days.
The consultant found that the average delay for the three alliances on the tradelane was 16 days during the period reviewed, with the 2M and Ocean alliances skipping more ports in a bid to reduce delays. And on the transatlantic route, THEA vessels lost less time than its rivals by omitting port calls.
Hapag-Lloyd's transport expenses rose 22% in the quarter, compared with the previous year, to $3.7bn, due mainly to a 73% increase in the average price it paid for bunker fuel of $793 per tonne. There were also significant cost increases for handling and haulage, up 13%, equipment and repositioning, up 15%, and vessel costs rose 12%.
Meanwhile, Hapag-Lloyd's THEA partner, Yang Ming, today posted a net profit of $1.9bn for Q2. This is based on a 49% increase in revenue, at $3.8bn, from a 2% uplift in carryings, at 2.3m teu.
Yesterday, HMM posted a Q2 profit of $2.2bn, and at the end of July ONE reported a net profit of $5.5bn.