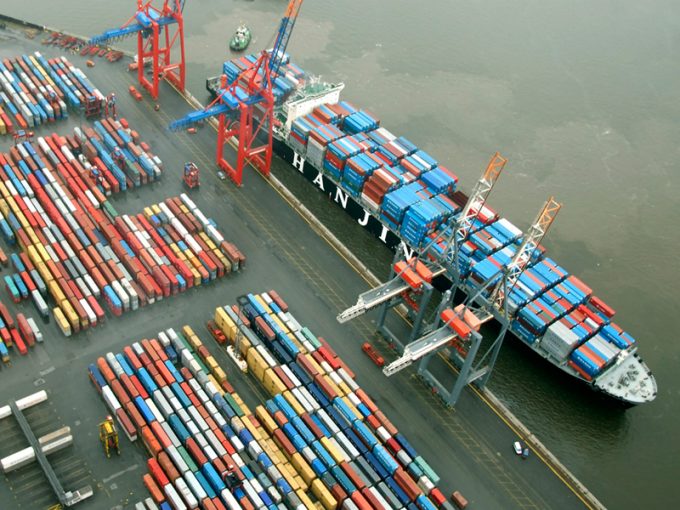 Hanjin Shipping said today it had received approval from the Seoul bankruptcy court to shutter its European operations as early as this week.
The move would appear to be an acceptance that South Korea's number-one shipping line, and the world's seventh-biggest, has no future on the global stage.
The carrier's four main European centres, Hanjin Shipping Europe, the regional HQ in Hamburg; Hanjin Shipping Hungary Transportation; Hanjin Shipping Poland; and Hanjin Spain, will close this week or early November according to the regulatory filing.
In total, Hanjin operates from some 10 offices in Europe and employs 250-300 people in sales and operational roles – probably many more indirectly, in sub-agencies and service roles.
Hans-Peter Becker, a senior manager at Hanjin Shipping in Hamburg, told The Loadstar this morning: "Whatever information we get, we get from the press, not from our management."
"In fact, today's announcement to close the European offices is still not confirmed internally. You [the press] are our only reliable source," he added. "I urge you to have an eye on information you receive and to publish it."
Two weeks ago the Seoul Central District Court, dealing with Hanjin's bankruptcy, said the carrier's largest trade route, between Asia and North America, would be sold off to meet creditors' claims.
The proposed sale of its transpacific route, where Hanjin enjoyed an 8% market share, would, it said, include offices, staff, service contracts, IT systems and five unspecified containerships, with letters of interest required by 28 October.
However, analysts have questioned the value of Hanjin's transpacific operations to other carriers on the route that have moved quickly to fill the void in the market left by the sudden suspension of its services.
The rumours in the industry are that the only carrier likely to be seriously interested in the ashes of Hanjin's transpacific service is its compatriot, Hyundai Merchant Marine (HMM), which is itself being restructured and is effectively controlled by its largest shareholder, the state-owned Korea Development Bank.
And today's decision to close European operations suggests that even optimists at Hanjin HQ do not believe there is any value remaining in its Asia-Europe tradelane.
Hanjin wants to "wash its face" and cut its losses, one industry contact told The Loadstar this morning – which might make economic sense, but has scant regard for loyal staff.
A lack of communication from the line, confirmed by Mr Becker, has been in evidence since Hanjin sought court protection at the end of August, with the masters and crew of many of stranded ships complaining of sparse information on discharging prospects.
As of 18 October, 82 of Hanjin's 97 container vessels had been fully discharged, however five ships remained under arrest.
Meanwhile, on Friday it was announced that Hanjin was in talks to sell its 54% stake in Total Terminals International, which operates Long Beach Container Terminal (Pier-T), to 46% joint-owner MSC.