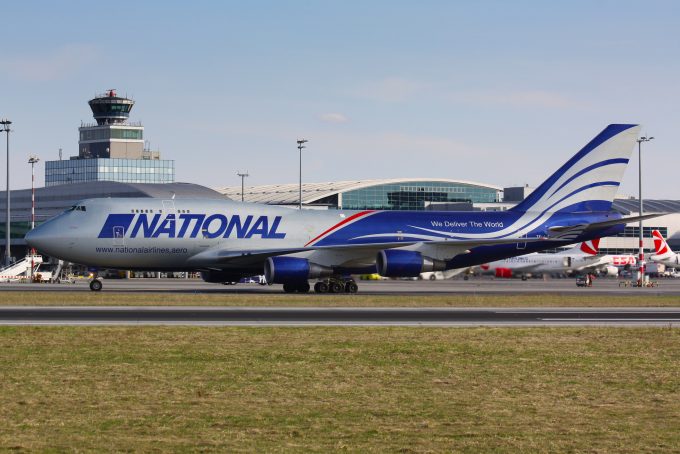 Forwarders are increasingly announcing exclusive partnerships with airlines for full freighter services.
This week National Airlines and Navitrans USA said they were set to launch a weekly round-the-world service using a 747-400F, operating Chicago-Liege-Baku-Hong Kong-Narita-Anchorage-Chicago.
The service starts on 1 June and will operate year-round. In addition, National will operate a twice-weekly scheduled operation, also exclusive to Navitrans, between Chicago and Zhenghzou, again expected to start on 1 June.
National said it would also be looking at developing new routes beyond China and to different parts of the US, according to an application filed last week with the US Department of Transport.
While National has an exemption allowing it to fly cargo between "points in the US and points in China", it told the DoT  it had been contacted since April "regarding scheduled cargo operations from the US to China via intermediate points, and to points beyond China".
With "negotiations for these services close to final", National asked for its exemption to be widened, indicating that the Chicago-Zhengzhou route may be expanded.
The new services almost exactly mirror those Navitrans had been operating with Atlas Air, a contract which appears to have come to an end.
Trinity Logistics USA, meanwhile, has added two fashion retail customers, allowing it to extend its partnership with Etihad Cargo and add a weekly 777F flight in a contract worth $40m.
The pair set up a weekly widebody service from Colombo to Rickenbacker, Columbus, and then the UK's East Midlands Airport for fashion logistics last year. The new service will exchange EMA for Abu Dhabi, while the existing one will continue.
The companies said: "The increased capacity was introduced to facilitate the movement of the latest high fashion from Sri Lanka for retailers in the US, and to support the US export growth to Europe, the Middle East and Asia.
"Victoria's Secret, GAP, Nike, Tommy Hilfiger, Speedo and Abercrombie & Fitch are just some of the brands whose products are manufactured in the Indian sub-continent."
The two "major" new customers secured by Trinity will "make a significant impact on the export side of the business".
In China, Qantas Freight has signed a one-year agreement with Sai Cheng Logistics to fly airmail out of China and into the US on its 747-400F network.
Sai Cheng is a joint venture between China Post and Australia Post. The deal will see airmail flown from Shanghai and Hong Kong to various points in the US. Qantas Freight currently operates four freighter services a week from Shanghai to Los Angeles, New York, Chicago and Dallas.
Sai Cheng, which has 13 warehouses in eight cities in China, said it collected more than 50 tonnes of airmail each week from China, destined for the US.
"The uplift of China Post airmail is a welcome addition to our network and reinforces that the routing we operate is aligned to our customer needs," said Alison Webster, executive manager Qantas Freight.
"We've been flying freight between China and the US for the past 14 years, with a triangular freighter route that operates four times a week between Australia China-US-Australia.
"The variety of freight we carry on this freighter network is extensive – including medical equipment, fresh produce, online shopping, mining equipment, racehorses and even the occasional helicopter."