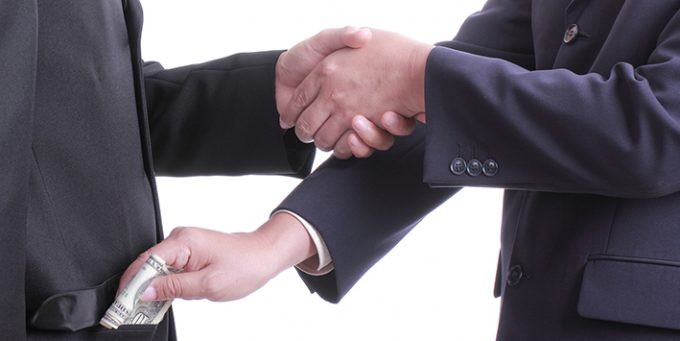 Corruption has been identified as the single biggest concern for companies doing business in emerging markets, according to this week's Agility Emerging Markets Logistics Index.
Corruption displaced last year's chief concern – poor transport infrastructure – with 16% of respondents globally saying it threatened their operations, although the problem is evidently worse in particular emerging markets.
The index report says: "The economic turbulence experienced in emerging markets over the last 12 months, as well as high-profile corruption scandals in Brazil and Malaysia, may also have contributed to the rising importance of a good business environment, with the suggestion that survey respondents place increasing value on fair, open and transparent legal and regulatory institutions which can protect investments, enforce contracts and offer robust commercial markets.
"Indeed, the rise of corruption in the list of inhibitors appears to reinforce this message."
It adds: "The effects of corruption on business operations are clear. Whether it manifests at the highest levels, affecting contract awards or investment decisions, or lurks in day-to-day operations with payments required to process loads through ports or checkpoints, corruption fundamentally reduces the capacity of logistics service providers to operate efficient and profitable businesses."
Among those surveyed by the index's co-creator, Transport Intelligence, fear of corruption was far higher in Latin America than elsewhere, with 38% citing it as their biggest concern. It was followed by political instability, which 19% of respondents quoted as their major worry.
These findings chime with those of Verisk Maplecroft's Political Risk Outlook for 2016, which also sees Latin American economies, now struggling with falling commodity prices, as presenting a "high" or "extreme" degree of risk from corrupt practices.
"The end of the commodities boom that fuelled Latin America's decade-long growth has laid bare the profligacy of South America's two largest economies, Brazil and Argentina, and the largest oil producer in the region, Venezuela. Lower commodity prices, coupled with chronic economic mismanagement, dealt heavy electoral losses to the ruling parties of Argentina and Venezuela in late 2015," it says, adding that corruption is also likely to spark social unrest.
"In Brazil, corruption and economic recession will dominate the political landscape. The ongoing impeachment process against President Dilma Rousseff is unlikely to be successful, but it will ensure protracted legislative gridlock during 2016 and prevent the passage of the reforms required to arrest the deteriorating fiscal landscape and restore investor confidence.
"The mass anti-government protests witnessed in 2015 are set to continue and could spike in the run up to the summer Olympic Games in Rio de Janeiro."
It adds: "The region's economic problems are compounded by social concerns over graft in 2016, increasing the risks of political and civil instability, as the newly formed lower middle class see their socioeconomic gains threatened or reversed. Verisk Maplecroft's Corruption Risk Index 2016 identifies Argentina, Colombia, Ecuador, Peru, Venezuela and Brazil as posing a 'high' or 'extreme' risk."
Economic forecasts for the region remain poor, with Brazil at the forefront. The Economist Intelligence Unit (EIU) said Brazil's economy contracted by 3.7% in 2015 and it forecasts a further contraction of 2% this year as Chinese demand for its iron ore and oil exports slows.
EIU senior editor Sebastien Marlier said: "In addition, the Petrobras scandal seems to draw in more people every day and it undermines both investor confidence and domestic confidence in the ruling party. Until they solve this crisis, the country will not improve."