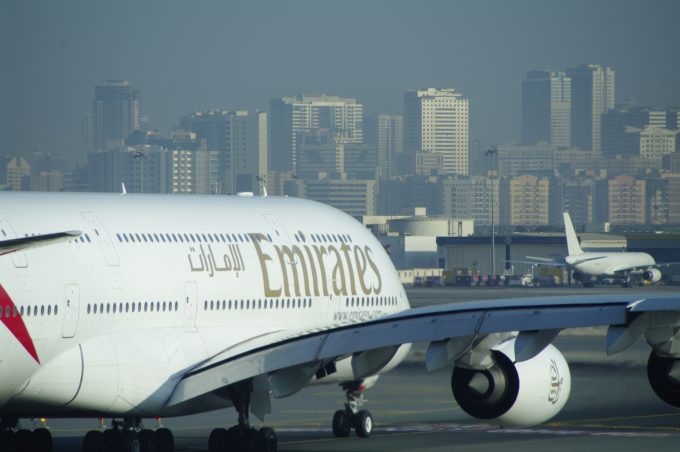 Emirates Group today warned against protectionism as it announced its 28th consecutive full-year profit: a new record at $2.2bn.
However, it was significantly lower than those of its greatest critics (AA: $6.3bn; Delta: $5.9bn; United: $4.5bn).
The 31-year- old airline said profit for the year ending March 31 was up 50% on last year, although revenue was down 3% to $25.3bn.
The group's handling subsidiary, dnata, also announced record profits, of $287m.
Calling the low fuel prices a "double-edged sword", chairman Sheikh Ahmed bin Saeed Al Maktoum, added: "Against an unfavourable currency situation which eroded our revenues and profits, an uncertain global economic environment dogged by weak consumer and investor sentiment, as well as ongoing socio-political instability in many regions around the world, the group's performance is testament to the success of our business model and strategies."
While the full financial details were not revealed, Emirates SkyCargo reported revenue of $3bn, down 9% on the previous year. Tonnage rose 6% to 2.5m tonnes, with freighter-carried volumes up 4% and bellyhold up 6%.
Yield fell broadly in line with the market, at 16%, impacted, said the company, by weakening major currencies and route mix. Cargo contributed 14% of the group's total transport revenues.
"Looking at the year ahead, we expect the low oil prices will continue to be a double-edged sword – a boon for our operating costs, but a bane for global business and consumer confidence," said Sheikh Ahmed.
"The strong US dollar against major currencies will remain a challenge, as will the looming threat of protectionism in some countries."
Handler dnata enjoyed record results after acquiring several companies. It took on Aviapartner's cargo handing operation at Schiphol in September,bringing an additional 360,000 tonnes of cargo and 44,000 metres of warehouse space. Since then, dnata has won Emirates SkyCargo's business at Schiphol, giving it a further 60,000 tonnes.
dnata also won Cathay Pacific's cargo handling contract at the UK's regional airports and Manchester, including inter-airport trucking in the UK and Ireland, and launched operations at three Pakistan airports, including Multan, where it revamped its 4,500sq ft cargo station.
This growth, as well as new stations for Etihad, SAS and Aer Lingus, led to a 46% increase in international cargo tonnage handled, to 1.36m tonnes. In the UAE, however, cargo volumes fell 6% to 689,000 tonnes. Dubai World Central now accounts for 24% of dnata's cargo handling activities – lower than the previous year as some airlines have shifted their cargo business back to Dubai International.
Emirates airline took 29 aircraft in the period, bringing its fleet to 251 – capacity growth of 11%.
The group declared a dividend of $681m to the Investment Corporation of Dubai. You can download the group's annual report here.