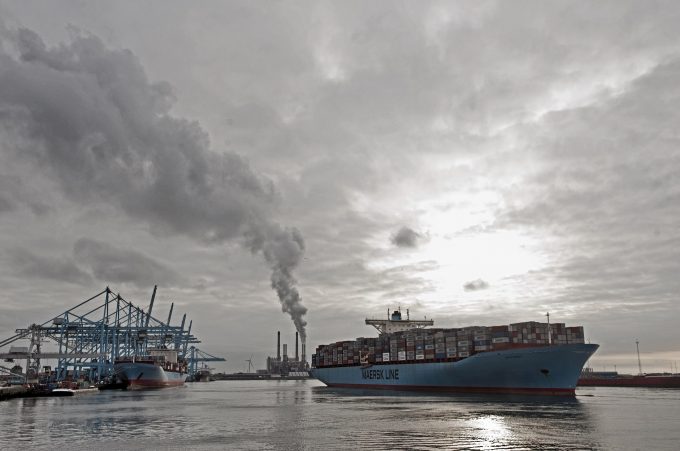 AP Møller-Maersk is to split its corporate structure into two separate divisions from next year.
Transport & Logistics will include Maersk Line, APM Terminals, Damco, Svitzer and Maersk Container Industry, with Energy the other business unit, which will comprise Maersk Oil, Maersk Drilling, Maersk Supply Service and Maersk Tankers.
The company said: "By operating as one entity, Transport & Logistics will be able to harvest synergies and optimise operations to secure the industry's most effective and reliable network.
"Strong capital discipline and better utilisation of assets will be ensured. When making investments, acquisitions will be the preferred option."
Today's announcement is the result of a three-month root-and-branch strategic and structural review of the company that followed a disastrous 88% decline in Maersk Group's second-quarter profit and the departure of group chief executive Nils Andersen in June.
Mr Andersen's role was taken on by Maersk Line chief executive Soren Skou, along with his duties at the head of the group.
In a radical shake-up at the Danish conglomerate's Copenhagen headquarters, CFO Trond Westlie will leave the group, stepping down on 1 December to be replaced by Jakob Stausholm.
Explaining the decision to break up the company, chairman Michael Pram Rasmussen said: "The industries in which we are operating are very different, and both [units] face very different underlying fundamentals and competitive environments.
"Separating our transport and logistics and our oil and oil-related businesses into two independent divisions will enable both to focus on their respective markets.
"This will increase strategic flexibility by enhancing synergies between businesses in Transport & Logistics, while ensuring the agility to pursue individual strategic solutions for the oil and oil related businesses."
In a statement, Maersk said the Transport & Logistics division would be based on "a one company structure with multiple brands" and would function "in a more integrated manner", rather than the hitherto "arm's-length principles".
Specifically, Damco and Maersk Line will collaborate "to deliver new innovative customer solutions", and box manufacturer Maersk Container Industry "will collaborate with Maersk Line on technology development and efficient production planning".
This seems to put an end to speculation that Damco would be sold after returning to profit, and suggests that the forwarder will now feed volumes into the container line.
But the biggest change comes at APM Terminals (APMT), where the operator will now "focus on cost utilisation" and "increase its focus on operational excellence", in order to "deliver an improved service to existing and new third-party customers".
This suggests that APMT has had its 'wings clipped' as an entrepreneurial global terminal operator. Chief executive Kim Fejfer will leave the group on 1 November after a 12-year stint at the helm, and is slated to take up "a new role related to AP Møller Holding A/S".
Mr Fejfer's successor will be Morten Engelstoft, the current chief executive of APM Shipping Services and Maersk Tankers.
Mr Skou said: "Morten Engelstoft has a strong track record of delivering results, deep operational experience and is an excellent people leader. I am confident that APM Terminals under Morten's leadership will continue to thrive as one of the world's largest terminal operators and successfully execute APM Terminals' priorities of costs, productivity and winning new profitable third-party business."
Mr Rasmussen added: "Kim Fejfer has developed APM Terminals into one of the world's largest and most successful port operators with outstanding results. Kim has expressed a desire to take on a new challenge when timing was right. On behalf of the AP Møller-Mærsk board and the company's employees, I want to thank Kim for his leadership, cooperation and commitment over the years. We wish Kim every success in his new role."
Maersk estimates that synergies from the new Transport & Logistics division will generate a return on invested capital improvement of up to 2% over three years, although "no material synergies are expected in 2016".
In other executive management changes, Claus Hemmingsen will become group vice chief executive on 1 October, and will also become chief executive of the Energy division.
Maersk cancelled this month's annual Capital Markets Day, due to the strategy review, but said it would now be hosting the event in the fourth quarter to provide "further insights into the reorganisation and future strategy".
Group profit collapsed to $134m in the second quarter of the year, compared with $1.1bn achieved in the same period of 2015. Maersk Line slid into the red with a loss of $139m, while profit at APMT fell to $109m from the $159min Q2 2015.
Chair of AP Møller Holding Ane Maersk-Mc-Kinney Uggla welcomed the new strategy and structure. She said: "While we are rooted in shipping and energy, we must never become static in a dynamic world."