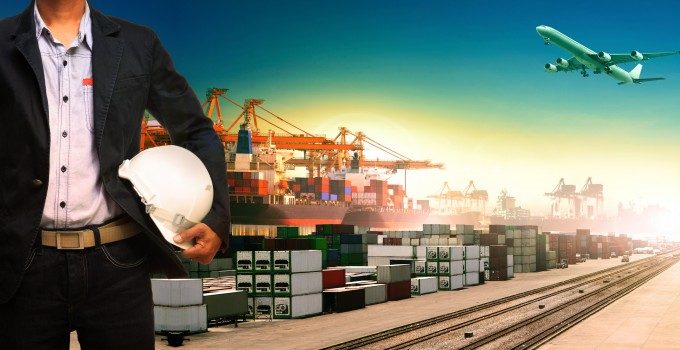 Marks & Spencer yesterday confirmed its position as the anchor tenant of London Gateway's under-construction logistics park, with the announcement of a £200m investment in a 900,000sq ft warehouse that will be linked by rail to its newly opened e3-commerce distribution centre at Castle Donington.
Emile Naus, head of logistics strategy at Marks & Spencer, said the facility will mainly be for general merchandising goods and will serve UK stores daily, as well as serving as a hub for its stores throughout western Europe
"It will act as an import-export port – we are developing a port-centric solution," he told The Loadstar.
He declined to predict exactly what sort of container throughput would be generated at the container terminal by M&S's volumes, but confirmed that the company currently imports about 40,000 teu per year into the UK.
He also declined to comment on rumours that the company has been seeking to sign a long-term – possibly three-year – deal with a shipping line for its Asia-Europe traffic.
"We have yet to make an announcement on that, and as no shipping lines have yet announced they will call at London Gateway I can't comment on our carrier choice, but we are looking at a number of options and we will certainly find a way to deliver the cargo here."
Clearly, there needs to be shipping services into a port for a port-centric logistics model to be effective, although how much cargo M&S diverts to London Gateway in preference to its existing ports remains to be seen, and will also depend on how the ports perform. "We look forward to at least one of them delivering better service levels," Mr Naus said. "We are also considering using short-sea shipping options out of London Gateway to our other main distribution centres in the country."
Mr Naus is the brains behind the company's radical rationalisation of its UK general merchandising and ambient foods distribution network, seeing it move from around 110 warehouses up and down the country, not all of them M&S-owned, to just three national distribution centres – Bradford, Castle Donington and London Gateway.
He said the total number of warehouses was now "down to around 50".
Mr Naus also explained that goods for its continental European stores would be unpacked from containers at London Gateway and then reloaded on road trailers for overland distribution.
"There isn't really another way at the moment. The exact routing of goods will depend on the location of the stores, but the plan is to store-pick products here, and load the goods on trailers for distribution to Europe via the ferries or Channel Tunnel."
For its international stores beyond Europe – in China, India and the Middle East, among other regions – the company plans to increasingly consolidate cargo at "a regional level", Mr Naus added.
DP World chairman Sultan Ahmed Bin Sulayem emphasised how critical it was for the port to secure a leading name as its anchor tenant. "We know that there are many people who are going to come to us, but to have Marks & Spencer at the beginning is very important for us."
The comments came after UK prime minister David Cameron visited the UK's newest port, set to open in the final quarter of the year, and delivered a set-piece speech that has been under preparation for months, outlining some of the steps the coalition government has taken to boost UK exports, including an ambitious expansion of diplomatic posts to support trade growth.
"Where once our diplomatic network was shrinking, we are now on the march; in a couple of years, we'll have opened 20 new diplomatic posts around the world, from Liberia to Laos.
"Everyone who represents Her Majesty's Government – every ambassador, every official – now has an explicit economic role: they are there to help seal the deal for Britain, to help sell Britain abroad. And, frankly, one of these salespeople is me.
"This policy of engagement, of connecting with the fastest-growing parts of the world, it is starting to pay off. Over the past three years, our exported goods to Brazil have gone up by half; to India by more than half; to China, almost doubled; to Russia, up by 133%. I have seen this happening myself; I was there in China when Diageo signed a huge deal; now it is the biggest premium drinks company in the world, and today Scotch whisky sales across the world earn £135 every second for our balance of payments. This is how British foreign policy is making the world work for us," he said, adding that investment at home had had to be made in combination with cuts in other sectors of society.
"So while we've had to make difficult spending decisions on current expenditure, like welfare, we've actually added money back into infrastructure spending, which is why we're able to go ahead with so many rail projects, particularly in the north of England; why we're able to go ahead with HS2; and why we also see now a very aggressive and packed Roads Programme, including – and I know you'll be pleased to hear this with this enormous project behind me underway – making sure that the junctions of the M25 can cope with the traffic that projects like this may produce," he said.
A full transcript of David Cameron's speech at London Gateway can be found here.