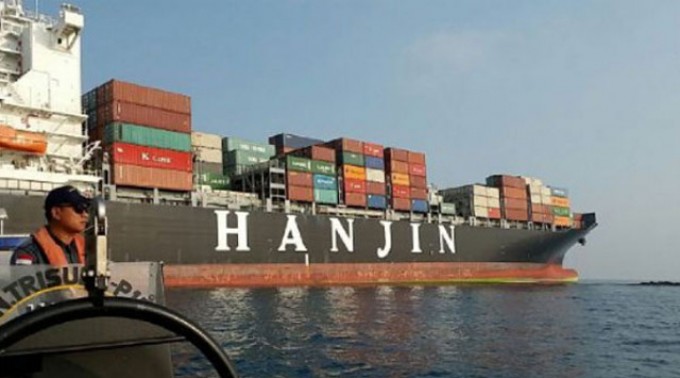 Hanjin Shipping today submitted a "financial improvement plan" to its creditor banks in a final attempt to avoid bankruptcy ahead of the expiration of its restructuring deadline on 4 September.
The beleaguered shipping line missed the 20 August deadline to tender the information to creditors led by the state-run Korea Development Bank (KDB) – but confirmed to The Loadstar today that this had now been done.
"Hanjin Shipping is not releasing any statement or comment regarding this issue," it added.
According to Korean media reports, the parent Hanjin Group, which also includes Korean Air Lines, was until now unable to reach a decision on providing the desperately needed liquidity support. The stricken carrier is known to need at least Won1.2 trn ($1.1bn) to stay afloat in the next 12-18 months.
Moreover, there is evidence that Hanjin has stopped paying its charter hire bills, after largely drawing a blank with charter rate cut negotiations with around 22 shipowners.
According to the latest filing from containership lessor Seaspan, the unpaid charter hire on its ships has increased from $11.6m at the end of June to $18.6m, and it is likely that Hanjin has substantial arrears on ships chartered from other owners.
The patience of shipowners is said by brokers to be "running mighty thin", with many considering "arresting" their ships until outstanding charter hire is paid.
However, the dilemma for Hanjin Group is that by injecting substantial funds into its ailing shipping unit – as demanded by KDB – it will risk putting the whole group in peril.
South Korea's top financial regulator, Yim Jong-yong, chairman of the Financial Services Commission, reaffirmed on 10 August that there would be no state aid for Hanjin Shipping.
"The government will let the company resolve its liquidity crisis on its own and handle the issue in accordance with principles is case of failure," he said.
Hanjin Shipping posted a net loss of $182m in the second quarter, but surprisingly, despite its financial problems, its liftings grew by 1% to 1,168,524 teu in the period against the same months of 2015.
Currently a member of the CKYHE alliance, Hanjin will join the new THE Alliance in April next year.