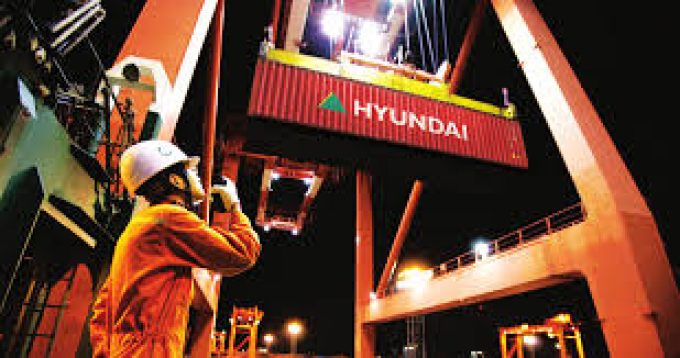 Hyundai Merchant Marine (HMM) today signed a voluntary agreement (VA) with major creditor Korea Development Bank (KDB) and other creditor banks, after apparently making "significant progress" on its charter rate cut negotiations with shipowners.
A company statement said: "Originally, the creditor banks were planning to sign the voluntary agreement once HMM completes every stage of its restructuring plans. However, they decided to take the agreement forward in order to actively support HMM's stabilisation as well as accelerating the charter cut negotiations and the restructuring of debts under non-agreement."
The agreement will extend the principal and interest payments on HMM's debts by three months while its creditors establish a restructuring plan for the carrier, following due diligence by an external accounting firm.
However, HMM added that a default of a Won120bn (US$103m) public bond, due to be repaid on 7 April, had "become ineludible", but cited a precedent of bankrupt bulk shipping group STX, where public bondholders initially rejected a debt restructure programme but eventually approved a second proposal.
An HMM official said: "In contrast to the last bondholders meeting, we believe it is highly likely that the public bondholders will agree on the bill, as HMM is offering a solid plan regarding debt restructuring by signing this voluntary agreement."
A further W240bn ($206m) public bond is scheduled to be repaid by HMM in July.
Asset sales – including its dry bulk shipping business to H-Line for $100m and its 40% stake in Hyundai Pusan Newport Terminal (HPNT) to PSA for $69m – will provide HMM with much-needed short-term liquidity, but will be insufficient to repay the outstanding bonds.
Danaos Corporation and Zodiac Maritime, the two shipowners with the largest amount of tonnage on long-term charter to HMM were not prepared to comment on their discussions with the carrier.
However, the word in shipbroking circles is that Greek shipowner Danaos has indicated a willingness to discuss compensation for early termination of charters – which is, of course, different to the daily hire charter rate reductions HMM is seeking.
Indeed, the caution that "charterers fail to meet their obligations to us or attempt to renegotiate our charter agreements, as part of a court-led restructuring or otherwise" was added to the 2015 annual report filed by Danaos with the US Securities and Exchange Commission (SEC) on 11 March.
Danaos, which has 13 ships on long-term fixed-rate time charters with HMM, including five 13,000 teu vessels deployed within the G6 alliance between Asia and Europe, said in the SEC filing that the potential significant reduction in revenue and earnings would "have a material adverse effect on our business" and its ability to comply with the covenants in its mortgages, which could result in it also having to restructure its debts.
HMM said a "firm foundation will be set to drive HMM to become a sound company from the second half of 2016", and that its restructuring plan was "progressing according to schedule". But it added that "all stakeholders' active participation" would be required.
Notwithstanding fending off its creditors, HMM has a mammoth task to convince its vendors to continue to advance credit terms and its customers to support it against stiff competition from other container lines.
In a personal letter to its customers last week, HMM chief executive Paik Hoon Lee apologised "for the grave anxiety we have caused", but vowed that its shipping services "will never be halted by a liquidity crisis".