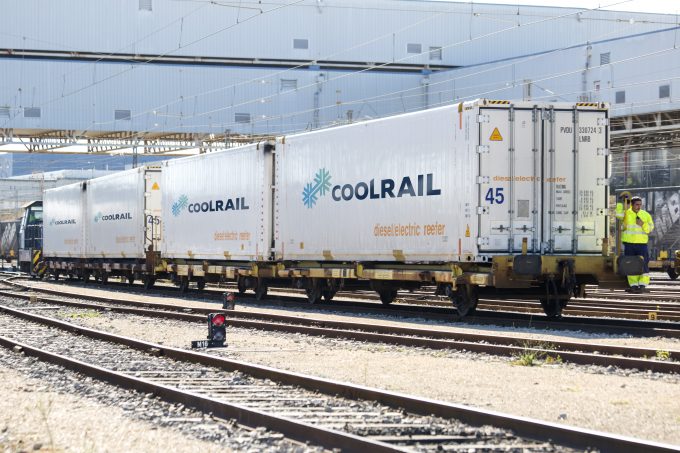 A new refrigerated rail service has launched between Spain and northern Europe, providing a more sustainable alternative to road freight for fresh produce shippers.
Cool Rail operates twice-weekly reefer services between Valencia and Cologne. The service takes three days, one more than by road, but each container travels 83% fewer truck-km – resulting in a 70% reduction in CO2 emissions.
Colruyt Group, which operates supermarkets in Belgium, France and Luxembourg, is using Cool Rail to import Spanish citrus and vegetables.
Once in Cologne, its containers are trucked to a distribution centre in the Belgian city of Halle, before returning with freshly washed Euro Pool System (EPS) folding crates for the return trip to Valencia.
"The containers are always fully loaded for every journey," said Wim Verghote, Colruyt's import project leader.
Mr Verghote told The Coolstar the main objective for Colruyt was reducing its carbon footprint.
"There was a big advantage as the Cool Rail containers never travel empty – EPS crates go southbound while oranges, broccoli and lettuces go northbound.
"On top of that, we are convinced that reducing our environmental impact and obtaining cost efficiencies can be complementary," he explained.
Developed by a cross-border group of shippers, retailers and forwarders, Cool Rail was initiated by Dutch fruit and vegetable wholesaler Bakker Barendrecht, reusable packaging specialists EPS, and the port of Rotterdam – where the service will be extended next year, with a view to running five times a week.
"It's remarkable that so many partners could get together to work on more sustainable transport. Hopefully, this initiative will inspire others to take action," said Mr Verghote.
Colruyt Group is actively pursuing other more sustainable international freight options, including switching from road to rail and ocean. Last year the retailer managed to cut over 3m truck-kilometres for goods imported from elsewhere in Europe, with more than half the journeys carried out by train or boat.
"From our experience, a land-sea route [from Valencia to Cologne] would take too long for these kinds of products. Air cargo is too expensive for this region and does not achieve our sustainability goals. Nevertheless, trucks will always be necessary for the first- and last-mile transport," Mr Verghote added.
Cool Rail uses diesel-electric reefer containers from Rotterdam-based manufacturer Unit45. The containers are equipped with a track and trace GPS system with real-time location and temperature information.
Unit45 created the first reefer container in Europe with sufficient cargo capacity to handle 33 Europallets. It also helped pioneer Asia-Europe refrigerated rail services alongside the likes of Hewlett-Packard, via its 800 litre diesel tanks that can heat and cool the reefer interior for 22 days without refuelling.
For Mr Verghote, Cool Rail's Valencia-Cologne route is potentially just the beginning.
"We are looking at several regions in Spain to import goods by train, such as Murcia and Almeria, with the goal to increase the frequency from twice a week to five times per week. On top of that, Cologne will be linked to Rotterdam by rail next year.
"Longer term we have the ambition to extend the service to other North European countries," he said.