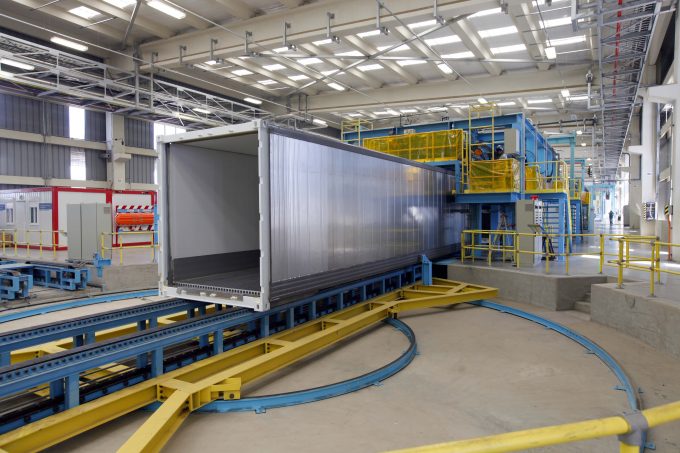 Just three years after launching production lines to build reefer containers in the region that most needs them – Latin America – Maersk Container Industry (MCI) yesterday shut down its San Antonio factory.
Maersk's box production arm said the decision to shut the Chile facility was due to the twin challenges of overcapacity of global reefer production and the higher costs of sourcing raw materials and developing a local supply chain.
MCI said all reefer production would be consolidated at its Qingdao, China, factory – its first dedicated reefer manufacturing plant which began operating in 1998 and "has during changing market conditions proved its capability to produce high quality products for the industry".
MCI chief executive Sean Fitzgerald said: "After careful review, we concluded that the consolidation of activities at one plant would provide a strengthened capacity utilisation and a simpler cost structure. This will in turn allow us to better serve our customers and focus on innovation, responding to the growing demand for reefer container technology.
"The harsh reality is that to be competitive today requires us to adapt our operations constantly. Fundamental market factors have changed and so must we to grow with the market.
"Regrettably, this decision impacts our 1,209 skilled colleagues in San Antonio and we are committed to supporting them and honouring our obligations," Mr Fitzgerald added.
The decision leaves MCI with its headquarters comprising M&D and test facilities in Denmark, and two facilities in China manufacturing reefer and dry containers.
After a somewhat protracted construction process, MCI's San Antonio factory opened its doors in November 2015, some two years later than planned, and had delivered MCI's Star Cool Integrated reefers to carriers at the export hubs of the west coast of Latin America. The theory was that this would eliminate the cost of transporting empty newbuild reefers from China to where they were needed.
At that time, according to trade data firm Seabury, around 100,000 reefer containers were needed in Chile to cater for its perishable export volumes, a number that grew to 300,000 when the Colombian, Ecuadorian and Peruvian markets were included.
However, said an MCI statement: "In the past several years, the reefer container market has changed fundamentally towards heavy overcapacity. At the same time, it has been challenging for Maersk Container Industry to develop a localised supply chain base of raw materials and key components to support its factory. As a result, manufacturing at the facility has shown not to be competitive in the global markets."
MCI's latest order was from Hapag-Lloyd, in September, for 7,700 new reefer containers, 1,000 of which were to be manufactured at San Antonio. A spokesperson for MCI confirmed to The Coolstar today that the contract had been completed and the units delivered to the German carrier.
"All sales contracts for production with MCI in San Antonio have been completed and there are no outstanding obligations," she added.