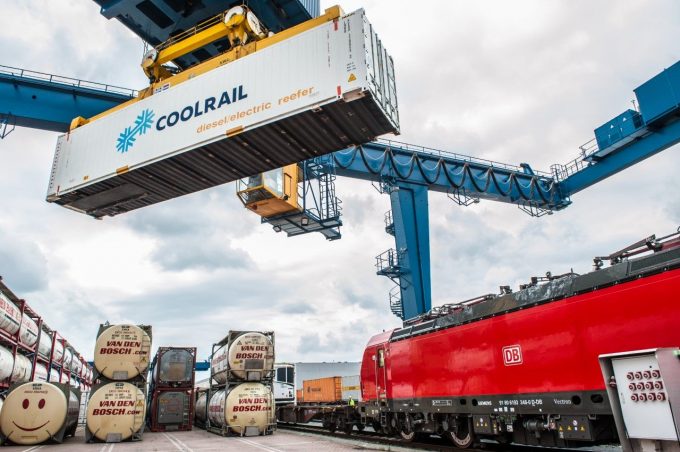 A new dedicated perishables reefer train link between Spain and the Netherlands opened this week and could save up to 12,000 trucks trips a year.
The CoolRail temperature-controlled service launched on Monday as a reefer-only operation, three times a week between Valencia and Rotterdam in each direction.
It is an initiative of Euro Pool System, which provides logistics services and re-usable packaging to the fresh produce chain.
Gerjo Scheringa, chief executive of Euro Pool Group, said: "After extensive preparations and the first pilot trial, we are now taking a major step towards the dramatic reduction of our carbon footprint when it comes to transporting fresh produce."
Each train carries 42 reefer units, and the service will run for 48 weeks a year, leading to impressive annual savings of greenhouse gas emissions, he added.
A statement from the group added: "Opting for rail transport rather than road haulage cuts the number of truck runs by 12,096 pear year and leads to 22m fewer road kilometres. This reduces the volume of CO2 released into the atmosphere by approximately 15,000 tonnes per year (equivalent to the annual savings of almost six large wind turbines)."
And it said new routes would be launched in the future.
"Spain is one of the key trading partners of the Netherlands for fresh produce. The rail connection with Valencia is the first branch of a completely new network. The partners aim to expand and establish new CoolRail connections with Germany, Scandinavia and the UK."
Euro Pool System has developed the project with a number of partners from the retail, fresh produce and logistics sectors, including Shuttlewise, Bakker Barendrecht/Albert Heijn, Visbeen, Kloosterboer, DailyFresh, EasyFresh, Primaflor, Bollo, Agroiris, Fruveg, TobSine, Pozo Sur and Samskip.