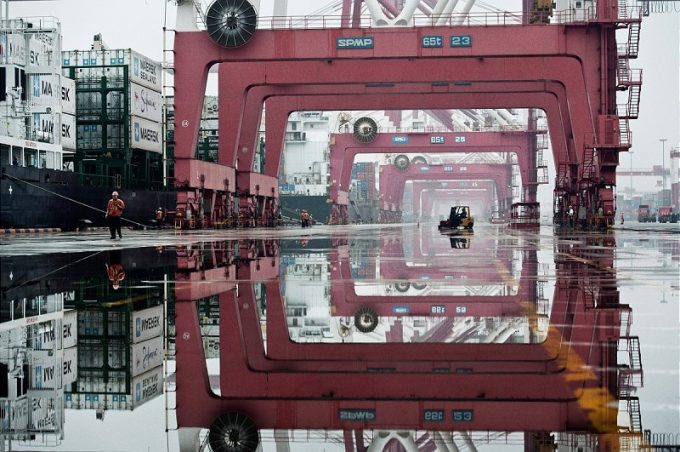 This week brought further evidence of the eroding container freight rate environment, as spot rates on the all major east-west trades out of Asia continued their downward descent.
Today's Shanghai Containerised Freight Index (SCFI) recorded declines of 5.4% and 3.9% on the North Europe and Mediterranean legs respectively.
The Shanghai-North Europe spot rate fell $39 to finish the week at $689 per teu, while Shanghai-Med fell $24 to finish at $595 per teu.
The declines are being linked to carriers' collective failure to withdraw capacity as the slack season gets underway.
Yesterday, liner analyst SeaIntel reported that utilisation levels on the Asia-Europe trades have been declining since the summer.
"Utilisation levels hovered around 83% in April-July 2017, but tumbled to 75% over the next two months.
Unsurprisingly, spot rates started falling immediately after, dropping to an average of $783  per teu in September," it said, adding that the outlook did not look good, unless sailings were cancelled in the final quarter.
"With volumes bound to drop in the fourth quarter, relative to the third quarter, and capacity levels remaining high due to low levels of blank sailings, carriers are looking at a rather challenging freight rate environment in the fourth quarter," chief executive Alan Murphy added.
The impression gained from forwarder chat at last night's Global Freight Awards was that carriers remained reluctant to withdraw any capacity and "are trying to hang on for the pre-Chinese New Year boost".
At a trade level, several forwarders said they were noticing fewer rollovers at Asian loading ports on lower-paying cargo.
However, this is likely to have a knock-on effect on next year's contract rates, with some carriers' attempts to negotiate new contract rates are being met with reluctance due to forwarders sensing weakness.
The SCFI spot rate declines this week were even more pronounced on the transpacific and Asia-US east coast routes, which fell 11.5% and 6.1% respectively.
The transpacific leg to the west coast fell $162 per 40ft to finish the week on $1,249 per 40ft, while the spot rate to the US east coast fell $116 to finish at $1,801 per 40ft.
Despite a significant growth in overall US demand this year, Seaintel research shows there was simply too capacity on the trades.
It said demand was over 10% year-on-year, which tallied with Los Angeles-Long Beach throughput growth for the first nine months, but that vessels utilisation had only breached the 90% mark once, in September.