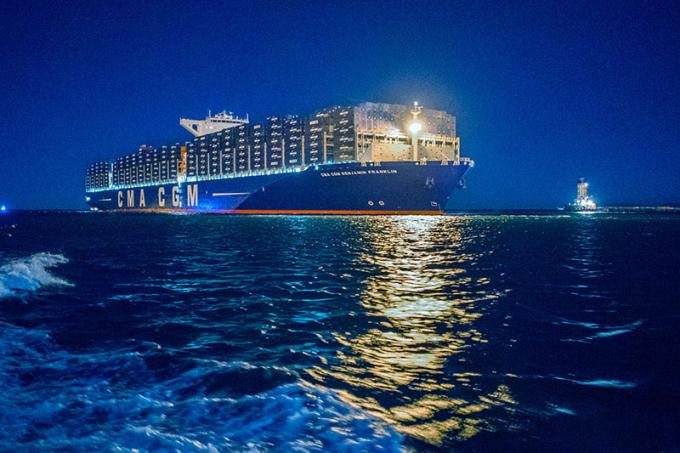 CMA CGM posted a net profit of $227m for the second quarter of the year, turning around a loss of $127m in the same period of 2016, with the assistance of a "significant" contribution from subsidiary APL.
The French carrier was the last of the liner majors that publish results to report its Q2 performance and it was the third full quarter to include figures from Singapore-based APL.
Total revenue was up 56.8% to $5.55bn, volumes increased 33.3% to 4.73m teu and reduced the number of ships its operates by 13.2%, from 532 in H1 16 to 462. Overall capacity, however, was maintained at 2.4m teu.
Consolidated average revenue per teu improved by 12.5%, year on year, although this was well below the 22% reported by market leader Maersk Line.
CMA CGM's strong second-quarter result was achieved despite a 60% hike in bunker costs and included a "significant" $89.2m contribution from APL.
For the six-month period, CMA CGM recorded a net profit of $320m, versus a loss of $217m showing at the halfway point of 2016. APL contributing $116m to the 2017 result. In 2016 overall, the carrier suffered a $452m loss, which included a $127m loss on APL operations.
CMA CGM's core EBIT margin in Q2 17 saw a sharp 11.2 point rise to 8.9%, which was ahead of rival Maersk Line's 6.2%.
Group chief executive Rodolphe Saade said: "The group releases excellent results for the quarter, with a core EBIT margin sharply rising thanks to our strategy of profitable growth. Once again, CMA CGM outperforms the industry and demonstrates the excellence of its operational management as well as the relevance of its strategy."
CMA CGM said that "excluding a significant change in fuel prices and exchange rates" and "given the recent trend in freight rates" that it expected to "continue to improve its operating results" in the second half of the year.
The positive result confirms a massive turnaround in the fortunes of container lines, which have recorded their most profitable quarter in two years, according to Drewry. The consultant estimates that the industry will achieve a full-year positive result of some $5bn, after being in the red by a similar amount in 2016.
CMA CGM also took the opportunity to confirm its order for nine 22,000 teu ultra-large container vessels (ULCVs), of which three are under options, which are stemmed to come into service from the end of 2019.
The carrier said they were required "to keep pace with market growth and the group's needs".
The ULCVs, which by current standards will be the biggest containerships afloat, are to be constructed at Chinese yards which outbid South Korean rivals with a reported cost per unit of $160m.
The order for six ships and three options represents a significant strategy change by CMA CGM. In March it said it dd not "anticipate any new ship orders on a short-term basis in order to maintain the still delicate balance between supply and demand".