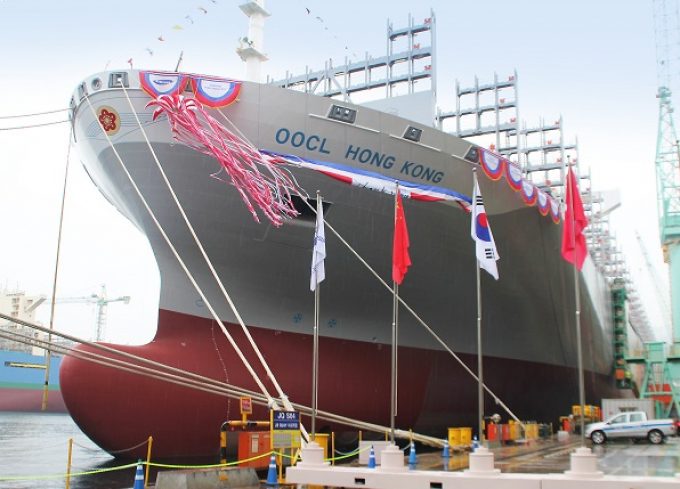 Container shipping lines may be finally getting the vessel overcapacity crisis under control.
It was revealed today that the newbuild orderbook-to-fleet ratio is at the lowest level ever recorded. And liner analyst Alphaliner suggested it could drop further over coming months.
Despite increasing numbers of ultra-large container vessels (ULCVs) joining the world's box shipping fleet, Alphaliner said the orderbook-to-fleet ratio was 14.1% on 1 May – meaning all new vessels due for delivery until the end of 2019 would add just 14.1% to global fleet capacity.
The previous low ratio was recorded in January 1999, at 14.6%.
Alphaliner said: "The current slump is expected to be deeper and more prolonged, as the ratio looks set to shrink even further over the coming months, with no major new orders expected to be placed until the end of the year."
Since the beginning of last year, 106 containerships have been ordered, representing capacity of 341,000 teu. During the same period, carriers and shipowners have taken delivery of 189 vessels with a combined capacity of 1.28m teu.
The last time an order was placed for a ULCV was the final quarter of 2015, while Q1 16 was the last time any vessel larger than 13,000 teu was ordered. Since then most orders have been for feeder vessels in the sub-2,000 teu range and some for 2,000-5,100 teu ships.
However, there is still a considerable number of ULCVs due to join the global fleet, including the 21,413 teu OOCL Hong Kong, taking the title of world's largest boxship, delivered last week.
Since Maersk's first Triple-E unit, the 18,340 Maersk McKinney Moller, arrived in 2013, 54 ULCVs have begun operating, and Alphaliner said another 51 are due to be delivered over the next couple of years: 14 more this year, 26 in 2018 and 11 in 2019.
ULCVs are operated by Maersk, MSC, OOCL, MOL, UASC and China Cosco Shipping, and they will be joined by Evergreen and CMA CGM next year.
One interesting aspect is that while ULCV capacity has grown, the actual size of the vessels has not – all have a length of between 395 and 400 metres, allowing 24 bays for 40ft boxes, and a beam of 58-59 metres, allowing containers to be stacked 23 across on deck with 21 rows in the holds.
Extra capacity has been created by variable stacking configurations. Alphaliner explained: "Each series can stow either 11 or 12 standard containers under deck (depending on hull depth), as well as a similar number of tiers on deck, with differing lashing bridge designs. Each also has different bay distributions due to the different placement of the deckhouse and engine room and funnel."