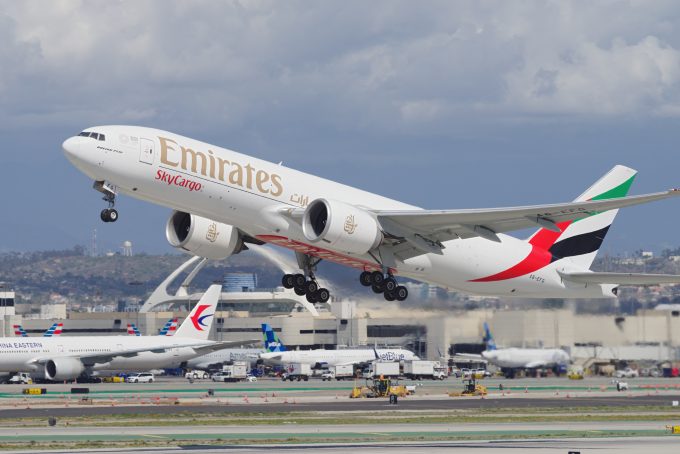 Boeing is looking at a conversion programme for its 777 as the supply of widebody freighters tightens.
Most carriers are reluctant to invest in new production cargo aircraft and thus the scene is tilting in favour of a converted 777 freighter, despite a hefty conversion price tag.
Large widebody cargo planes are in hot demand. The current shortage has prompted efforts to get hold of ageing 747-400 passenger aircraft to revive the virtually defunct conversion programme for the type, and the MD-11F has seen a revival, with some predictions that it may remain in service until the early 2030s.
Neither type harbours large enough numbers of viable candidates to meet projected demand for maindeck capacity, though.
If anything, the shortage of large freighters looks set to worsen. Tom Crabtree, regional director, market analysis, marketing and business development at Boeing, believes demand for large widebody freighters will not abate in the near future.
Boeing could crank up its output of 747-8 and 777-200 freighters. Those were scaled back in the summer of last year to six units a year for the 747-8 and five per month for the 777.
There have been recent orders for 777-200Fs from several carriers, including Qatar Airways, Lufthansa and All Nippon Airways, but for the most part airline boardrooms are still reluctant to give their blessing to the cost of new production freighters.
Mr Crabtree takes these recent orders as signs of a return of optimism in the market, but concedes that the carriers that are moving ahead are in the minority for now.
"Airline boardrooms prefer older freighters or ACMI for the near future," he said.
With few older aircraft with existing all-cargo programmes available, inevitably interest is turning to other types, and a 777 conversion scheme is an obvious choice.
Jonathan McDonald, head analyst at IBA Group, said that at some point, Boing has to consider if such a programme would make sense, and the aircraft maker is chewing on its options already.
"We are studying the market right now," Mr Crabtree said.
Various options are on the table, from the 777-200 to the -300 version, but at this point Boeing has not made any decisions. One likely scenario would yield a plane with a payload of about 80 tonnes and a range of 3,500 nautical miles. The payload would be significantly below that of a 777 production freighter, but this may be mitigated by the rise of e-commerce, which tends to max out on volume.
Until recently the 777P2F was considered too expensive. Ram Menen, former head of cargo at Emirates, pointed out that passenger widebodies produced since the 1990s were optimised for weight and would require costly modifications to be turned into all-cargo configuration.
The high cost of a conversion has so far weighed heavily against the 777, especially combined with high residual values of conversion candidates.
However, feedstock costs for the 777-200 have come down significantly, as airlines are retiring the type from their passenger fleets, notes Stan Wraight, president and CEO of Strategic Aviation Solutions international.
"The conversion cost will be high, but if the price for the airframe falls enough, you can probably get a plane for $50-$55m with engines," he said.
He is positive that conversions will happen, probably one or two years down the road, he added.