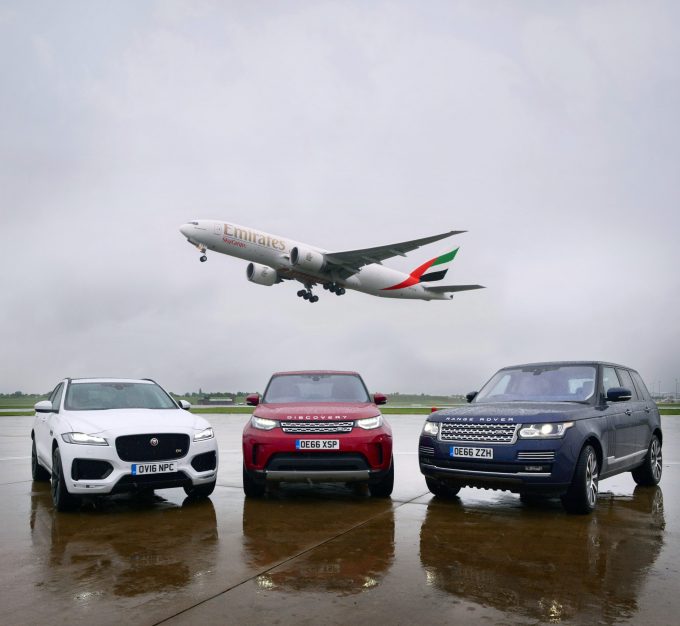 Jaguar Land-Rover exports have triggered two new freight services out of the UK.
Last week, Emirates launched a regular 777 freighter service out of Birmingham Airport to Chicago to deliver luxury cars to the US market for testing. The 777 can carry up to 15 cars.
The carmaker produces thousands of vehicles each week in its Solihull, Birmingham, plant, with exports organised by Metro Shipping, which has long advocated the use of Birmingham Airport (BHX).
"It is uncongested, and has a surprising amount of wide-bodied and narrow-bodied capacity as a gateway," said Grant Liddell, business development director for Metro.
"It has a later shut-off for movements, and is a natural gateway at the centre of Britain. We call it Birmingham Inbound Super Hub, Birmingham Aviation Super Hub, Birmingham Outbound Super Hub – or BISH BASH BOSH."
He added that it is the first scheduled freighter service into BHX – "hopefully the first of many".
"There is a lot of automotive in the region, as well as manufacturing, specialist shipments such as horses and so on based in the Midlands, and on the inbound it is a natural gateway to the region's distribution centres of retailers and distributors," he said.
Lawrence Boyle, global test facilities team leader for Jaguar Land-Rover added: "This is another milestone as it continues to improve productivity, saving significant time and cost in the movement of our vehicles.
"By working with Emirates SkyCargo and using Birmingham Airport, we have a hub much closer to the centre of our engineering and manufacturing operations, enabling us to transport our premium products more quickly and efficiently. We are proud to have played a role in making this happen and supporting sustainable, profitable growth."
The automotive company has also started using a new weekly ro-ro shipping service for its cars out of the UK port of Bristol. The first call is Baltimore, and then on to the US west coast via the Panama Canal.
Bristol Port Company handled nearly 200,000 vehicles for export last year, and anticipates a 20% increase this year. In total, the port saw 719,000 vehicles pass through it last year, including those for Fiat Chrysler, Toyota and Vauxhall/Opel. The service is operated by Wallenius Wilhemsen (WWL), which is adding Bristol to its Europe-US schedule.
Confidence among UK exporters is currently strong, according to a report published by the British Chambers of Commerce (BCC).
Exports increased in the first quarter and businesses are confident of improved sales in the coming year. However, the BCC warns that rising costs and exchange rate fluctuations could temper growth.