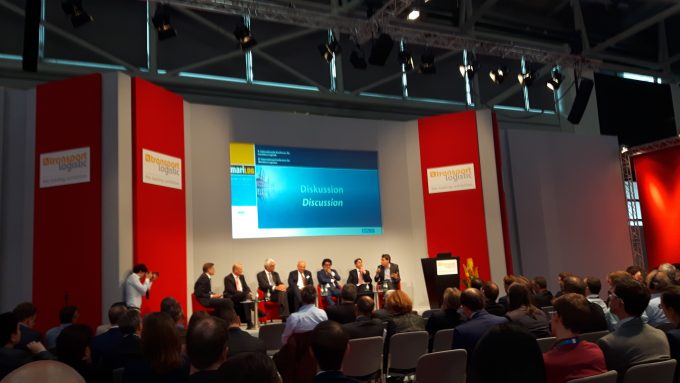 Bigger containerships and fewer port calls are leading to severe hinterland congestion and a weaker ports industry, delegates at Transport Logistic in Munich heard this week.
"The three alliances have fewer port-to-port connections," explained Olaf Merk, of the International Transport Forum. "There has been a clear reduction between January and April on the major lanes.
"Shippers have less choice, and there is less service frequency. Weekly Asia-EU, for example, has gone down. That leads to more peaks and troughs in terminals. Sometimes they are used intensively, other times they are under-used."
And the ports have said that recent moves by shipping lines towards bigger ships were creating some serious consequences.
Gunther Bonz, president of Feport, a federation of European ports, said: "We don't complain about vessel size; we have to handle them. Lots of terminal operators can handle the ships, but need new organisational approaches because of the peaks.
"The problem is the hinterland and railroad. In Germany there is a law that trucks can't go on the road on Sundays. So everyone knows what happens on a Monday morning [after a big ship has been in]. The public infrastructure is not there to handle it."
He believes there is no quick solution, adding: "It takes a long time for public infrastructure to get investment. It takes two years to order a big ship and get it delivered. Cranes take two to three years, but roads can take 20 years. That's the bottleneck and the problem and the challenge."
Luc Arnouts, CCO for the port of Antwerp, said: "The impact has been remarkable, but the key to success is to fill the big ships. So is your port able to attract enough cargo?
"The other aspect is that bigger ships lead to peaks. It's undeniable. Terminals work hard and invest, but there are problems with congestion. The bigger the ships get, the bigger the cost of developing the hinterland – that's something we are starting to feel in Europe.
"Antwerp is not just about Belgium – connectivity to the hinterland is crucial and society needs to invest and expand the infrastructure."
The container shipping lines defend their move to larger ships. Thorsten Haeser, CCO of Hapag-Lloyd, said: "It's about cost and scale, and on certain tradelanes big ships are more cost-effective.
"But this is probably the top size for the next five years, I can't see investment in ships bigger than 25,000 teu. But it depends on the tradelane – you can't do even 20,000 teu on some."

Alongside the congestion challenge, the new alliance structure could threaten some terminal operators, added Mr Merk. The number of public terminal operators has fallen, with carriers taking over the market share.
"Fifteen years ago, the carriers had 19% [of the market], now they have 38%. The lines have become more active in terminal operations," explained Mr Merk.
The 2M and Ocean alliances now have 90 terminals, or 50m teu of capacity, making them the largest terminal operators in the world, he added.
"Carriers are getting into hinterland services, and can also act as forwarders. The flow of goods is served by carriers, but digitisation allows them to do more. And with vertical integration, ports get less leverage."
He also believes "there is a dependence by ports on alliances. Some are almost fully dependent on one alliance; so they are very vulnerable".
One solution could be for the terminal operators to form alliances, but Mr Bonz said European competition law was not fit for this purpose.
"Alliances are a natural process, but in Europe, port alliances must get approval from the European Competition Commission. If terminal operators want to cooperate, we have a competition law that is more or less unique and unable to meet these challenges. It's much more straightforward in Asia and the US."
Mr Arnouts said changes to port structures should be dependent on helping customers.
"If there is a business model that adds value for the customers and can make you money, then why not? I see positives, from the port side, of being more customer-oriented. We have realised we need to create value by being part of the supply chain."
Mr Bonz agreed, urging more cooperation between players.
"There's a need for more positive cooperation between carriers. There are start-ups which are not asset-driven but have IT booking platforms, and they take profits. If current businesses can't work together, we will have challenges from start-ups, because we are heavily asset-driven."
Meanwhile, according to a survey by logistics company Livingston International, 75% of North American shippers asked, confessed to not knowing about the changes in the container shipping industry. Once they understood, only one-third expressed concern around the impact of the new cargo ship alliances, although 72% were very concerned that cargo rates would increase.