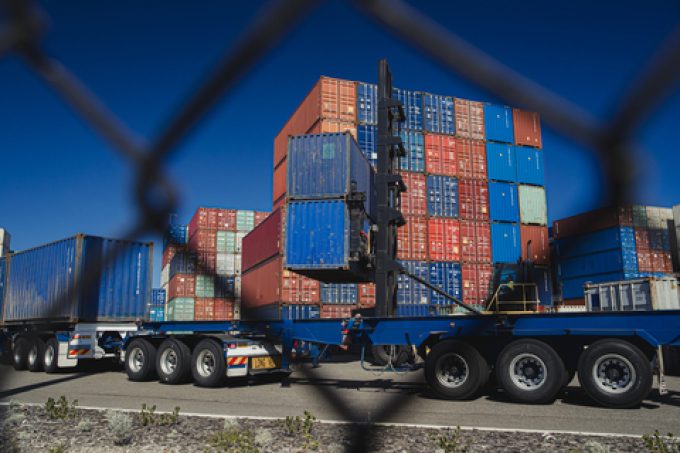 Australia's empty container depots – and at least one major stevedore – have agreed to extended payment terms for cash-strapped transport operators.
Software provider Containerchain, which collects 'notification fees' on behalf of empty container depots, said today that payment terms would be extended from 14 to 21 days for the next three months, providing some respite to logistics firms struggling with the fallout from the coronavirus pandemic.
MD Chris Collins said: "We too are feeling the economic impact, but we want to ensure that we work with the Australian container logistics sector to get through this current crisis as best we can, together."
According to the Container Transport Alliance Australia (CTAA), the virus crisis and plunging international trade has had a worrying cashflow impact on transport operators across the country.
"Plummeting trade volumes out of China and the flow-on effect to containerised trade from other countries, means that transport operators' equipment and labour are idle, leading to a significant cashflow squeeze," said CTAA director Neil Chambers.
"The willingness of Containerchain to assist the sector in these current difficult economic circumstances is welcomed."
Mr Chambers said some freight forwarders and shippers were delaying or postponing invoice payments to transport operators, which are "clearly concerned about their own cashflow situation. This is heightening the current precarious cashflow situation for many", he added.
He warned of "long-term participants exiting the sector", should the industry not "pull together" and relax strict payment terms for notification fees, as well as for the controversial infrastructure charges levied by the country's stevedores.
"One of the largest cashflow outlays for transport operators are the stevedore landside infrastructure (terminal access) charges and vehicle booking system (VBS) fees, which must be paid well in advance of the amounts being able to be recovered from transport customers," Mr Chambers explained.
After writing to Australia's major terminal operators, Mr Chambers told The Loastar Hutchison Ports Australia had agreed to temporarily extend payment terms from the invoice date, from 14 to 30 days, with the decision to be reviewed at the end of the financial year.
In a message to the CTAA, Hutchison said: "Many of your members may not know that we are subsidising every container that we handle. Most of the cash subsidy is for labour, which we have to settle within 14 days. Therefore in addition to the subsidy, we have to also provide two weeks' financing. This is further compounded by losses from customers which fold up, and there are quite a few.
"Please do understand that the Covid-19 virus is impacting us equally, if not more so, by the much larger and costly infrastructure we need to maintain in order to operate. As you can appreciate, we are caught in a very difficult place."
Mr Chambers said the CTAA had not yet received an official response from the country's two largest stevedores, Patrick Terminals and DP World Australia.
"We've also asked them to display empathy to wharf carriers in these current hard economic times," Mr Chambers said. "For example, not to be too quick to cut off terminal access if wharf carriers display genuine levels of financial stress.
"The irony is that, as Chinese containerised imports into Australia start to recover to somewhere near normal levels, this will coincide with significant social isolation policies being implemented by the government and businesses alike.
"This might mean that container transport operators could be caught with staff shortages at the time when they need them most.
"This may translate into more penalties imposed by the stevedores for the late arrival of trucks for their vehicle booking system slots and 'no-show' fees, meaning wharf carriers could be left chasing their tails."