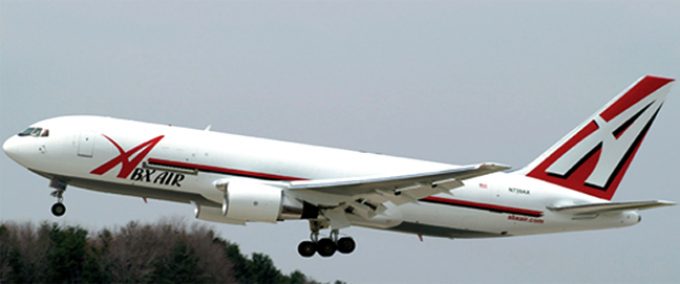 Plans to launch a joint-venture Chinese express cargo airline have been delayed until next year, according to ATSG.
The US company, which is establishing the airline together with Okay Airlines and discount retailer Vipshop Holdings, told investors in its first-quarter earnings call that approvals would take longer than anticipated.
"A launch date [for United Star Express Airlines] still depends on government approvals and will likely not occur until early 2017," said Joe Hete, CEO.
He said: "The first tranche of aircraft will be 737s. To get the AOC certified in China, you need three aircraft, so we're in the process of working with our partners to find those aircraft right now.
"We have one that's already on the certificate of Okay Airways."
The aviation group, which has now completed two quarters of working for Amazon, saw revenues rise 21% to $177.4m, while adjusted pre-tax earnings rose 13% to $16.1m.
ATSG, along with Atlas, is contracted to operate 20 767s for Amazon. Mr Hete said ATSG had now bought or had agreements to buy all the aircraft and conversion slots for Amazon and other customers.
"We have begun to recognise the benefits of locking up feedstock 767s in an increasingly competitive market," he said. "Agreements we have signed give us access to aircraft we can purchase that would exceed a $290m budget."
He added: "We probably got ahead of the market in that respect. We have lined up feedstock out in 2017 above and beyond what we would require for the aircraft that we had to deliver at Amazon, [and] our other primary customer, DHL.
"We expect to have an appetite for additional lift, going forward, as well as some of the other customers that we have in our portfolio. So we have feedstock in place today that we think is at the price point we have always targeted, in terms of being able to put an asset into service for $23m to $25m range."
Mr Hete said some aircraft could go to the Chinese JV airline, which could take some 767s towards the end of next year or 2018. The airline will serve the e-commerce market in China and neighbouring countries.
ATSG has been trying to diversify its customer base. DHL accounted for 36% of its revenue in the quarter, down from 52% a year earlier, with Amazon producing a 19% share of turnover. US military spending remained broadly flat, accounting for 15% of revenues.
You can read the full results here; more concise results here; and read the earnings call here, at Seeking Alpha.