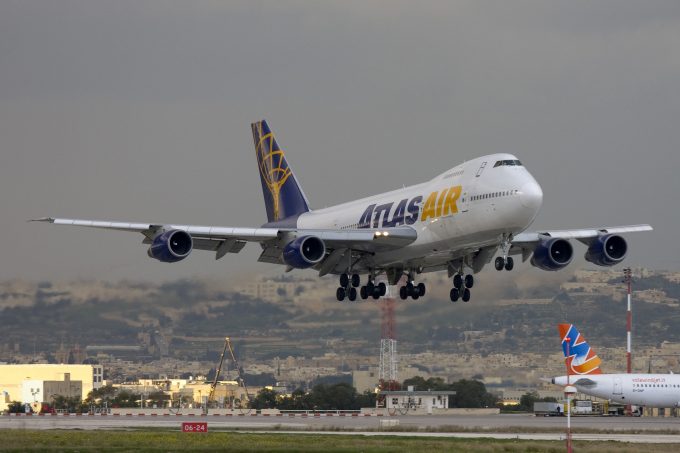 Atlas Air is counting on a final quarter peak and lower maintenance costs in the second half to boost its results after a tough second quarter.
Operating revenue fell 2.7% in the period, 4% over the first half, to $861m, partly owing to last year's strong results based on the west coast ports slowdown. Net income in the first half fell 63%, year-on-year, to $21m.
The company noted that its costs rose 7% in Q2, following the acquisition of Southern Air and preparations for the forthcoming Amazon deal, for which Atlas needs to acquire crew and aircraft for 20 767s over the coming years . The first aircraft is scheduled to start services this quarter.
"The start-up expenses for Amazon have been coming in a little bit higher than we had anticipated," said CFO Spencer Schwartz in an earnings call with analysts.
Atlas noted that the second quarter was "tough for the industry", but a move into the express market would boost its revenues during the holiday season.
"We believe strongly in the future of air freight, especially in the future of express and e-commerce," said CEO Bill Flynn.
"Our long-term strategy is to build Atlas, to make the most of that future through the quality and scale of our fleet; through the efficiency of our operations; and through the strength of our business relationships."
He noted a slower pace in commercial air cargo, but said: "Given the inherent seasonality of air freight demand, we expect the majority of our earnings this year to be generated in the second half…. our sense is that there will be a peak in air freight express and e-commerce this year.
"We are looking forward to a very strong fourth quarter, led not only by the combination of the demand and the amount of capacity that we have sold at very attractive margins already into the fourth quarter, but substantially lower maintenance expenses."
Analysts, however, queried whether earnings from the peak season would be as heady as management was suggesting, and expressed concern that a 747-8F had been returned and is now in charter, as opposed to a long-term ACMI lease. But Atlas said it would not be difficult to place the aircraft.
While there were no questions concerning Atlas's recently filed proxy statement on the Amazon deal, Mr Schwartz told The Loadstar that Atlas had not been keen to agree a 180-day cancellation on the ACMI deal with Amazon, but its hand had been forced by Amazon's deal with ATSG, which has the same 180-day clause.
"We didn't like the 180-day term, so we put in place several things to mitigate that. Amazon cannot terminate the deal before January 1 2018, by which point we will be operating a lot of planes. It would be hard for it to cancel – and hopefully we'll be doing a great job.
"Amazon is an exciting customer and e-commerce is the fastest-growing part of the market, so it's neat for us."
He also denied that the management team could garner millions when a "change of control" clause is triggered by the Amazon deal. He explained that this would only happen if the management's roles were changed in any way, and they terminated their contracts. If they remained at the company, they stood to gain only a "small" amount.
The deal is structured in such a way that executives can fully gain their stock and performance awards, even if the company's performance is bad, however, making it a low-risk deal for management. One financial analyst told The Loadstar he was "very surprised" and "troubled" by how the deal had been structured, although he added that investors "view Atlas that way anyway".
However, he added, shareholder votes tended to be rubber-stamped, and the investor base would want the deal to be voted through in September.
"My long-term view of the company is not rosy. The investor perception is not very good as they trade at low multiples for a reason," he said. "But I do give Atlas credit for the steps it has taken to diversify the business, and the finance team is very good.
"They have done what they could do to offset market pressures – but I think they do tend to play games with numbers."