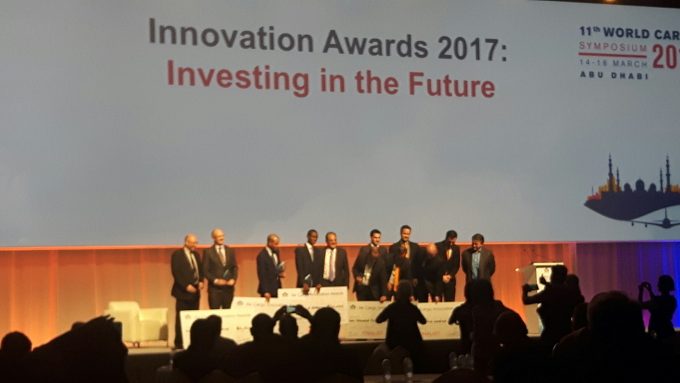 Astral Aviation today won IATA's innovation award of $20,000 to help it develop an airspace management solution for drones in Africa.
Astral's Aerial division aims to be the leading drone operator in Africa, and has already developed the Flyox cargo drone, capable of carrying 2,000kgs over 1,200km
These can stay in the air for up to 26 hours and land on an unpaved airstrip or even on water. Astral envisages its primary use for delivering medical and humanitarian supplies, as well as e-commerce.
But, while five African countries have drone regulations in place, Astral wanted to develop a system to manage the airspace. Key criteria included ensuring there are no collisions and no flying in restricted airspace and to set common standards.
Its 'UTM' concept reserves airspace between 4,000ft and 8,000f for drones. Developed by recent graduate aeronautical engineer graduate, Geoffrey Nyaga Kinyua, the first person to build a drone in Kenya, the UTM traffic management platform is designed to build virtual routes, based on data including things such as weather and restricted airspace, and then captures all the data to share with regulators.
"We are very confident that the UTM concept will provide a safe environment," said CEO Sanjeev Gadhia. "It's designed with Africa in mind, but can be used anywhere."
IATA's independent panel of judges for the bi-annual prize chose a shortlist of five submissions from 46 entries, with the winner selected by the audience via an app at the World Cargo Symposium in Abu Dhabi.
Jettainer, Etihad Cargo, Gatechain and OpenAirlines all won $2,500 as runners-up, in what was said to be a close competition.
Jettainer had developed a platform to manage its 85,000 fleet of ULDs. It said the complexities of managing so many ULDs, in so many places, with 20 different types, were significant. But its new platform gathered every existing piece of data, including things such as bank holidays, flight data and ULD demand to help it manage the fleet and respond quickly to demand.
"For our customers it can save on fuel costs through more efficient routes, and reduce equipment costs," said Jettainer's Gert Pfeifer. "For us, it's a better learning curve and allows us to focus on more sophisticated tasks. It's a revolutionary step."
Etihad Cargo built a sustainable cool dolly, which it plans to turn into a 'smart' cool dolly. It has zero emissions and will include tracking technology that will also allow it to set specific temperatures and emit a warning when the temperature changes. David Kerr, chief of Etihad Cargo, called it a "game changer".
Gatechain created a blockchain-based "ecosystem" which allows all parties in the supply chain to work together, creating workflows, purchase orders, air waybills and so on.
"It will be open to third parties and is built for the future," said founder Wassilios Lytras.
OpenAirlines developed a product called SkyBreathe, based on big data. By analysing millions of flights and other data, the system can work out optimal fuel burn in an application for pilots.
It can advise on things such as when an aircraft should turn on its auxiliary power unit, when to use reverse thrust and on optimal landing and take-off paths. Used by Atlas Air among others, it has a special application for freighters which considers things such as the centre of gravity, and APU usage based on cargoes, such as livestock.
Chafik Hilal, vice president sales and marketing, said it saved customers $25m last year, along with 50 tons of CO2 emissions.
It is the second of the innovation awards. Glyn Hughes, IATA Cargo chief, said he was "blown away" by the quality of the entries.
IATA also announced that next year's WCS would be in Dallas, Texas.