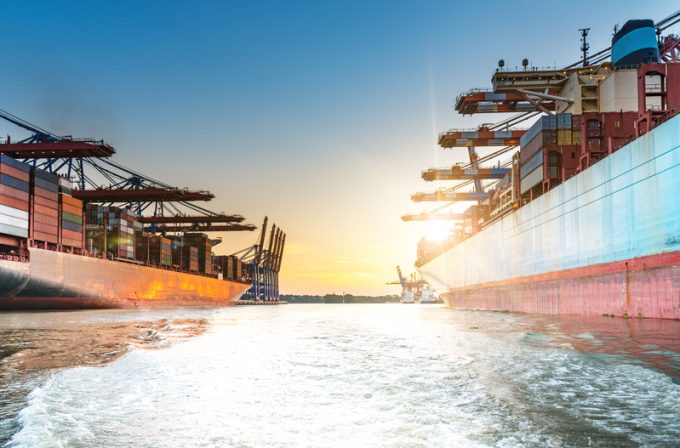 Despite withdrawing significant capacity, Asia-Europe ocean carriers appear to have failed to push up container spot rates as they head into the usually lucrative peak season. 
The Shanghai Containerised Freight Index (SCFI) recorded another week of slippage for rates. 
The North Europe component declined by a further 1.9%, to $688 per teu, and has now fallen more than 30% since the beginning of the year and around 20% below the level of a year ago. 
And SCFI spot rates for Mediterranean ports fell 2.9%, to $705 per teu, as the route suffers similar weak demand issues. 
Asia-North Europe carriers have announced radical steps that will see more than 130,000 teu of westbound capacity removed over four weeks of the peak season, as they battle to halt the slide in spot rates that can now make up over 60% of their business. 
According to Alphaliner data, the Ocean Alliance will blank four headhaul sailings in July and early August, cutting 66,900 teu, matching four cancelled THE Alliances voyages, which will remove 67,700 teu of capacity. 
The 2M alliance has so far not announced any void sailings and may look to gain some market share from the prudent capacity management of their rivals. 
Members Maersk and MSC withdrew their AE2/Swan loop between September and December last year, only to see the Ocean and THE carriers benefit from the temporary cancellation.  
A source from one carrier told The Loadstar at the time that Ocean Alliance carriers in particular had taken full advantage of uncertainty surrounding the reactivation of the loop. 
"They thought Christmas had come early," he said, "but we won't make the same mistake again," he added. 
Meanwhile, on the transpacific, the SCFI recorded Asia to US rates also trending down after a massive GRI-induced jump last week, which saw US west coast rates spike by 24% and rates for east coast ports jump 16%. 
This week, spot rates for the US west coast ticked down 4.1%, to $1,649 per 40ft, while US east coast rates edged down just 0.9%, to $2,764 per 40ft. 
During the G20 summit in Japan last weekend, President Trump announced that the US was going to defer the implementation of new tariffs on Chinese imports and that trade discussions between the two nations would resume. 
However, the trade has seen some new front-loading of cargo in anticipation of duty hikes and, according to Ethan Buchman, CMO of Freightos, this is set to continue for a while. 
"It will take weeks before the bulk of front-loaded orders get finished and shipped," said Mr Buchman. "Besides, with importers getting caught out the last time a tariff came off deferral, some front-loading may continue."