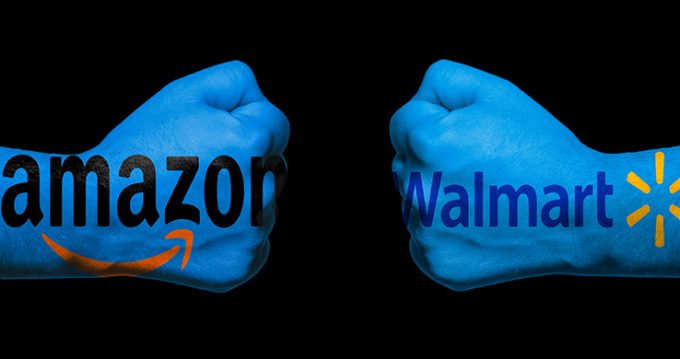 Amazon and Walmart are ramping up the battle over the online grocery market: Amazon has added a 30-minute pick-up service to its offerings, while Walmart wants to leverage technology to speed up its deliveries.
Amazon picked Sacramento and Virginia Beach as the launch grounds for a grocery pick-up service from Whole Foods, the grocery chain it acquired last year for US$13.7bn.
Members of its Prime service can order items via the Prime Now app to collect them as early as 30 minutes later, without leaving their cars, choosing between a free pick-up after one hour or a 30-minute option, which costs $4.99. At the Whole Foods store they park in reserved spots and staff deliver the goods to their car.
Amazon has indicated that it intends to roll out the service at other US locations in the months ahead.
With this move Amazon reinforces Whole Foods locations as pick-up spots for grocery orders and parcels purchased through the Amazon platform. It also strengthens the appeal of its Prime membership scheme.
At the same time, the company has opened a second front in its battle with Walmart by adding a pick-up option to its home deliveries of groceries, a service which has been expanding rapidly.
Amazon launched a free two-hour delivery service for groceries from Whole Foods in March for orders through its Prime Now channel in ten markets, including Austin, Denver, Atlanta, San Francisco and Los Angeles. Subsequent expansion saw markets like New York, Miami, Chicago and Houston added to a line-up that now covers 24 areas.
Meanwhile, Walmart revamped its delivery strategy this spring, when it announced that its partnerships with Uber and Lyft were ending, and teamed up with three new partners – Postmaster, Deliv and DoorDash – for local grocery deliveries. Between them they serve 30 metropolitan areas in the US and Walmart's declared objective is to cover 100 areas in the US by the end of the year.
Its delivery model now relies entirely on third-party carriers; the company quietly abandoned its scheme for employees dropping off deliveries on their way home after work. According to one report, this faltered because of low employee participation owing to inadequate remuneration.
Walmart is also looking to use technology to gain an edge over its rival. It has started a pilot programme in Salem, New Hampshire, where a new automation system uses mobile carts to collect items from storage and deliver them to employees who assemble customer orders. This feeds both deliveries and pick-ups at the store via drive-through lanes.
Down the road, technology looks set to play an even larger role for Walmart. The retailer has opened a partnership with Waymo, the driverless-car offshoot of Google owner Alphabet, that looks to tackle the grocery delivery market with a twist.
Instead of taking groceries to a consumer, the plan sees driverless cars picking up the consumer from his home and taking him to a Walmart store to retrieve his order and drive him back.
At the same time, Walmart is positioning itself for growth in China: last week management released word that the company and Chinese online platform JD.com would be investing $500m in an on-line JV delivery company, Dada-JD Daojia. The logistics firm serves about 20 million users in a month, delivering food from local supermarkets.
The stakes are high. According to IGD, a research and training firm that focuses on the food and grocery industry, online sales of groceries will grow by 129% in the US by 2022, and account for 2% of the total US grocery market. For China, IGD predicts 286% growth by 2022, for a share of 11.1% of the national grocery market.