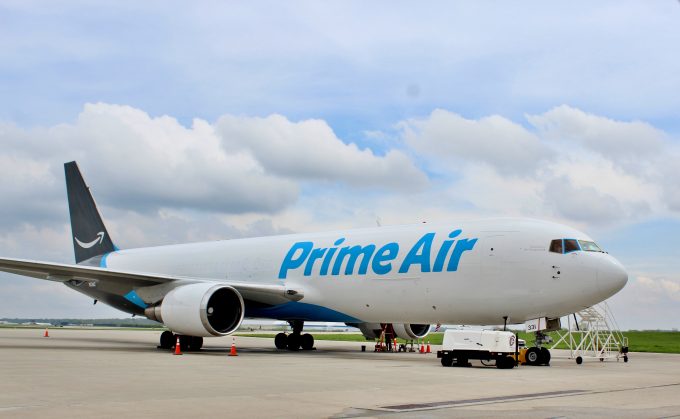 Amazon has added 210 acres of land to its development at Cincinnati/Northern Kentucky International Airport (CVG), its US air freight hub.
Senior VP of operations Dave Clark tweeted: "Amazon Air getting ready for take-off in KY!"
In response, CVG tweeted: "More great news for our region; further investment in Amazon's future air hub."
Local media reports claim the area comprises two parcels of land on the west side of Aero Parkway and follows Amazon's earlier acquisition of land in the $1.5bn development of its hub at CVG.
Speaking in July after Amazon announced it was moving to CVG, Mr Clark said the availability of a large, skilled workforce and its central location and quality of life for employees made CVG stand out.
"We feel strongly that with these qualities as a place to do business, our investments will support Amazon and customers well into the future."
Amazon Air's plans to increase its fleet size to 40 by the end of the year seem on track, with partner Atlas lining up additional aircraft. Planespotters.net notes the US carrier has at least five B767-300Fs in its fleet, awaiting use by the e-commerce giant.
The aircraft would bolster Atlas's Amazon fleet to 18 – just two shy of its commitment to have 40 in operation by the end of 2018.
Furthermore, the website notes that a sixth 767-300F is due for Amazon Air, as is a Boeing 767-200F.
Amazon has now taken more than 1,100 acres at CVG and Boone County judge executive Gary Moore said the move demonstrated the company's commitment to the airport.
Meanwhile, Amazon has been caught up in the continuing UK case of wrongly identifying employees as "self-employed" after union GMB won another victory against UK Express (UKXD).
UKXD drivers who solely deliver for Amazon have won a legal battle to be treated like employees, entitled to the minimum wage and 5.6 weeks of paid leave. In an effort to stop further claims, the company has apparently offered a "100% settlement" to drivers, some reportedly receiving almost £20,000 in back pay.