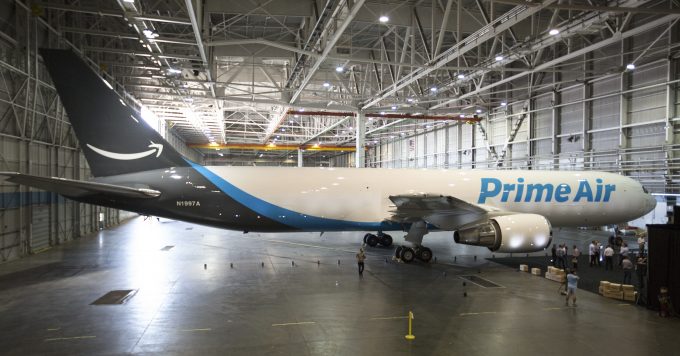 Amazon Air has started a double daily freighter flight to Miami, operated by Atlas Air, despite concern about pilot numbers.
Shuttling from Miami, between Amazon's favoured destinations such as its Cincinnati hub, Ontario and Houston, it is using Atlas's now 21-strong fleet of 767-300Fs earmarked for Amazon Air.
Amazon has a facility to sort packages at Miami and four warehouses in Miami-Dade County within 12 miles of the airport. The largest is a new 885,000 sq ft fulfillment centre at Miami-Opa locka Executive Airport, completed this year.
"We are excited to launch the Miami gateway to support our growing air operation," said Sarah Rhoads, director of Amazon Air. "Amazon has enjoyed being a part of the Miami-Dade community and are thrilled to continue our relationship."
While Amazon Air appears to be busy, pilots from the International Brotherhood of Teamsters who fly for Atlas and ATSG have claimed a pilot shortage is restricting Atlas from operating all its 767s.
"Some airplanes are parked, hiding under maintenance," one source told The Loadstar. "There is a shortage of crew. We understood that Atlas thought all 20 should be operating by October, but we don't think there are enough pilots to crew them.
"The operation is running on razor-thin margins; there is no reserve, no plan B. The Amazon operating problem creates a huge ripple effect."
Atlas failed to respond to requests for comment, but had said in recent investor earnings calls it would have 20 aircraft in operation for Amazon by the end of the year. According to the planespotters.net website, it now has 21 767s under the Amazon brand, but only 18 appear to be operating, according to flight tracking data.
Of its other 767s, Atlas has three stored – one after a hard landing incident in July – and another due for delivery anytime, after conversion by Boeing.
The pilots claim that Atlas is short-staffed to the tune of some 265 pilots, and it does appear that Atlas is struggling to hire or retain pilots. While it hired 311 in the first half of 2018, overall it grew by just 160 pilots. In August, some 27 pilots left the carrier for retirement or better offers.
The pilots also claim that Atlas has recently changed the program it uses on flight operations, making it harder for the union to track and get accurate numbers. "The program they use has changed – now we can only see what's flying, not what's idle."
The plots also claim Amazon is being kept in the dark.
A survey of ATSG and Atlas pilots, conducted by the union last year, showed that nearly 80% of those who responded witnessed flight delays or cancellations at their airlines due to short staffing. And when asked if they were confident that their companies were telling key customers like Amazon the truth about their challenges, 83% of ABX pilots and 80% of Atlas pilots who participated in the survey strongly disagreed.
The pilots will be protesting outside the Cargo Facts Symposium in San Diego today, where Atlas and ATSG executives are due to speak.