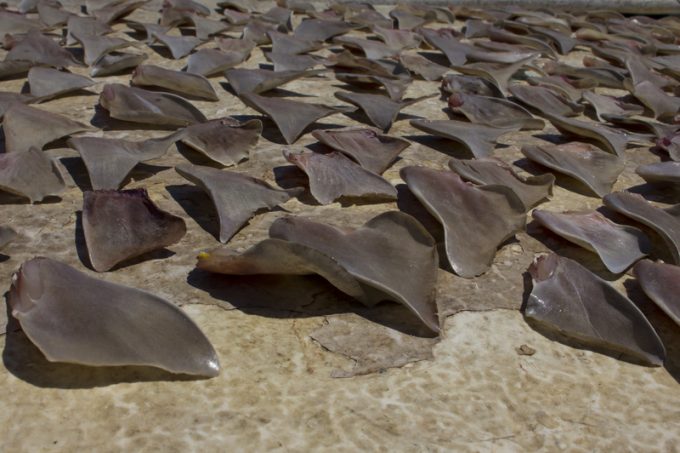 Air China Cargo has become the first Chinese mainland carrier to ban the transport of shark fins, joining 30 other global airlines which won't carry the product.
According to the South China Morning Post, the Chinese carrier did not say when the ban would take effect, but on its website said it was committed to playing a bigger role in global sustainability.
The carrier said: "We understand the community's desire to promote responsible and sustainable marine sourcing practices, and this remains important to Air China Cargo's overall sustainable development goals.
"Therefore, we reiterate our 'no shark fin' carriage policy."
In response, Elisa Allen, director of People for the Ethical Treatment of Animals (PETA), said: "Congratulations to Air China for, again, making the skies more animal-friendly.
"Five years ago, the airline ended the transport of primates to laboratories, and now it's refusing to ship products of the shark-finning industry – a wretched, universally condemned trade in which sharks' fins are hacked off and the sharks tossed back into the ocean to spin helplessly to the bottom of the sea to die.
"They feel pain and experience fear, as all animals do, and the few airlines still propping up the bloody finning industry or the laboratory primate trade should immediately follow Air China's lead."
Last year, Hong Kong airlines Cathay Pacific and HK Express joined carriers pledging to end the practice, including Kenya Airways and British Airways.
Following the announcement from Cathay in June, Alex Hofford of Wild Aid, which campaigns to end the illegal wildlife trade, said that an airline like Cathay Pacific should never be seen to be a link in the supply chain of a criminal trade.
"Shipping sharks by air is not just an issue of sustainability, but ethics and legality," said Mr Hofford, who also called on Fiji Airways to end its "outdated and broken" sustainable shark fins only policy.
While the announcement from Air China Cargo marks an important step, the Animal Welfare Institute (AWI) lists 16 carriers that continue to transport shark fin, including All Nippon Airways, Ethiopian Airways and United Airlines.
And Wild Aid has stepped up its pressure on integrators, calling on FedEx to join UPS in banning shark fin shipments.
According to the latest AWI data, the list below shows the shark fin status of the major airlines:
Airlines that have banned shark fins
Virgin Atlantic Airways (2011)
Etihad Airways (2013)
Air New Zealand (2013)
Asiana Airlines (2013)
Quantas (2013)
Korean Airlines (2013)
Eva Air (2013)
Aeroméxico (2013)
LAN Chile/LATAM Airlines Group (2013)
Garuda Indonesia (2013)
Qatar Airways (2013)
FinnAir (2013)
Lufthansa (2013)
KLM (Royal Dutch Airlines) (2013)
Air Asia (2014)
Philippine Airlines (PAL) (2014)
Emirates (2014)
Air Seychelles (2014)
Singapore Airlines (2014)
Thai Airways (2014)
Cebu Pacific (2014)
Swiss Airways (2014)
Air France (2014)
COPA (2014)
Jet Airways (2014)
China Airlines of Taiwan (2014)
American Airlines (2015)
Sri Lankan Airlines (2015)
Kenya Airways (2016)
Iberia (2016)
British Airways (2016)
Cathay Pacific Airways (2016)
Dragonair (2016)
HK Express (2016)
Air China (2017)
Airlines that continue to transport shark fin
AerolíneasArgentina
Air India
All Nippon Airlines (ANA)
China Airlines
China Southern
Ethiopian Airlines
Gol, Iberia
Iran Air
Japan Airlines
Lion Air
Pakistan International Airlines (PIA)
South African Airlines
Transportes Aéreos Portugueses (TAP)
United Airlines
Vietnam Airlines
Since 2013, Fiji Airlines has operated a "sustainable shark fins only" policy