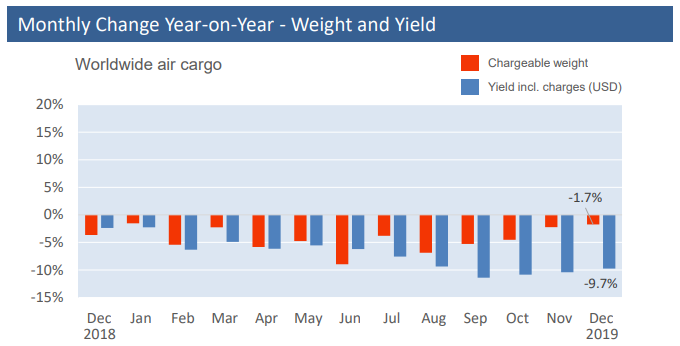 There's enough going on this year already, without worrying about the past – but, if you are still wondering what happened in air cargo in 2019, the results are finally out.
WorldACD has reported that worldwide revenues dropped by a depressing 11.7% compared with a year earlier.
Yields fell 7.6%, while total weight sank 4.4%.
And not even the good stuff bore sufficient fruit: pharmaceuticals and vulnerable goods, including hi-tech, while showing 8.5% growth in volumes, also saw yields drop.
"A cause of concern for the airlines," noted WorldACD.
Europe was hit the hardest. Revenue (in US dollars) fell 16%, with Germany alone accounting for half of the decline. Outbound was a bit better, both in Europe and Asia Pacific, but the opposite was true for North America.
"Many have attributed (part of) the disappointing 2019 results for air cargo to the worsening US-China relationship, but trying to establish where the consequences of the trade war were felt most is not all that easy," noted the analyst.
Total China inbound volumes fell 6%, but China outbound increased by 2.7%. Year-on-year in total increased by 2.8% to Europe and dropped by only 0.3% to the US. The report does note that some ex-China traffic went via Japan, slightly distorting the numbers.
But it adds that Hong Kong "lagged considerably". Air exports overall fell 5.5%, but to Europe was down 10.8% and to the US down 14.4%. US outbound, meanwhile, fell 5.3%, but was only down 4.9% to China and 5.7% to Europe. Inbound was down 4%.
For December alone, total chargeable weight fell 5.4% from November, or 1.7% year on year, with general cargo down 4.2% against December 2018, and special cargo up 3.3%. Yields in US dollars fell 2.8% from November, down 9.7%, year on year.
There was some sunshine in December though. Hi-tech and other vulnerable goods were up 13.3% from a year earlier, while pharma and temperature-controlled goods rose by 12.6%. In perishables, flowers did best (up 3.5% year on year), but fruit and vegetables suffered (down 7.9%).
You can read the full results here, and yields here.