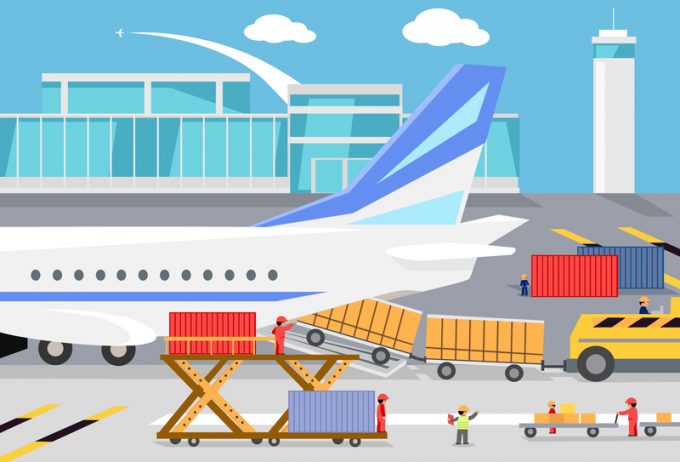 The air cargo industry is facing serious challenges as it struggles to keep surging volumes flowing through its airports. Not only are many airports operating close to capacity, but many of the existing facilities are ill-suited to the requirements of modern cargo traffic.
The surge in traffic during the peak season overwhelmed airports, including some of the large gateways, exposing inadequate cargo capacity. As demand is forecast to remain strong, the pressure will only increase in the near future.
"A lot of markets are near capacity," remarked Mike Duffy, CEO for the Americas at Worldwide Flight Services.
Ray Brimble, CEO of aviation facility developer Lynxs, has heard from a number of North American airports that they are running out of space for cargo. Several have issued RFPs for cargo facility development or signalled interest in such undertakings, he added.
The slump caused by the global economic downturn largely put a halt to cargo facility development in recent years, which led to consolidation and some exodus on the developer scene. Prologis, the largest player, walked away from air cargo facilities altogether. Lynxs is still managing cargo buildings at five US locations, but it largely shifted its focus to other aviation projects like maintenance hangars in recent years.
Mr Brimble expects demand for cargo buildings to strengthen, and an increase in rental rates is making facility development attractive again, he noted.
However, the challenge goes beyond putting up additional square footage to accommodate larger volumes. Much of the existing air cargo infrastructure is inadequate to process the types of traffic that have risen to prominence lately, notably temperature-sensitive shipments and e-commerce.
"The cool chain is going to have to increase in a number of places," remarked Mr Brimble.
To some extent, putting in coolers and deploying technology will help cargo terminals cope, but the concept on which most existing facilities were built is no longer adequate, according to Mr Brimble.
"Facilities now are about large commoditised movement of goods," he said, adding that this is no longer appropriate. "Facilities and the people in them are going to look and act differently. We will see a lot more volume of activity, but broken down into smaller pieces."
Mr Brimble likened the situation to the rise of low-cost airlines that took off two decades ago, which saw smaller planes dock at massive gates designed for larger aircraft. He envisages a higher number of flights with smaller planes carrying shipments that require more special handling and bespoke handing solutions.
The mismatch of bays and aircraft on the air side is going to be matched by a similar asymmetry on the landside. Docks that were set up for large trailers are not the right set-up for a larger number of smaller vehicles making more frequent trips, he argued.
This could be an even larger problem than the airside, he warned, saying that facility access threatens to become a serious choke point.  The need for a larger number of smaller vehicles will likely create bottlenecks and traffic jams, he said.
To date, WFS has seen significant growth in parcel traffic for the integrators it handles at some stations and the US Postal Service, but little has changed at the commercial airlines, as few of them have made direct plays for e-commerce. "We don't see such a big uptick in e-commerce at the regular carriers," reported Mr Duffy.
Still, outdated infrastructure is a headache. In January WFS signed a 15-year lease for a new 346,000 sq ft cargo terminal that is planned to come on stream in 2020 at New York's JFK airport. This will allow the handler to consolidate operations that are now spread over a number of buildings around the airport.
It will also usher in the airport's first pharmaceutical facility, not to mention a more contemporary set-up. "Infrastructure at Kennedy is pretty obsolete," said Mr Duffy.
The same can be said about a number of airports.