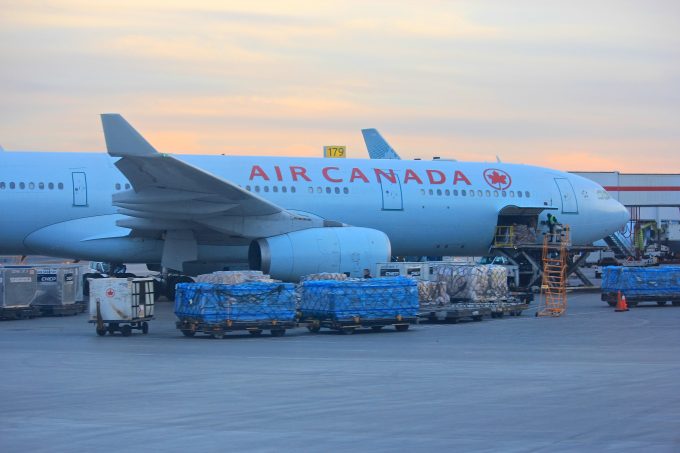 Air Canada (AC) is upping its game in the cargo market. Buoyed by 42% growth in cargo revenues, the airline is moving to expand its fleet with new production freighters.
It is set to receive two new B767-300F aircraft this year, in addition to its steps to convert eight 767s from passenger into all-cargo configuration.
For an airline board that used to have strong reservations about all-cargo aircraft, the decision to invest in production freighters signals a long-term strategy in which cargo plays a significant part.
"Today's announcement is a further signal of our long-term commitment to freighters, as we continue to adapt and grow at Air Canada Cargo, said cargo VP Jason Berry.
"These factory-built 767-300F aircraft will allow Air Canada Cargo to speed up the expansion of its freighter fleet, helping provide reliable, dedicated services to key cargo routes around the world, further bolstering the capacity provided by Air Canada's mainline fleet.
"In anticipation of our recovery, Air Canada has kept the course with key long-term projects to increase and diversify revenue and lower costs. One such programme is the expansion of Air Canada Cargo, with quarterly revenue up 42% to C$398m (US$310m) from the first quarter of 2021," said AC president and CEO Michael Rousseau.
Mr Berry claimed AC Cargo had outperformed most of its peers and gained market share with its "strong focus on cargo and hard work to maximise utilisation of its capacity".
Passenger aircraft on cargo missions have played a key role in this drive for a greater stake in the air freight sector. Besides flying passenger planes to carry freight, AC removed seats from 11 widebody aircraft to use them as "Charlies", as the cabin freighters have been called internally.
The resurgence of the passenger business has seen most of these return to their original configuration, one reverted to passenger service recently, leaving just one 'Charlie' in action, primarily on transpacific routes. It will cease cargo operations before the end of the year.
However, the airline is still using passenger planes for cargo missions, one B777 has been allocated to a constant loop between Vancouver and Shanghai.
The Asian market has softened, Mr Berry noted. Overall, customers have been more cautious, but business remains strong, he said, adding: "While there's some trepidation, the supply chain is so stressed."
The exit of the 'Charlies' will result in a dip in AC's capacity in the transpacific arena. In the current market conditions it would be feasible to run a 767 freighter to Asia, but overall the aircraft is not really suited to this, Mr Berry said. He regards the airline's growing 767 freighter fleet as a complement to its belly capacity.
This is set to become more important across the Atlantic. Part of AC's rebuilding of its passenger business is an order for A321XLR aircraft just upped from 26 to 30. The deployment of A321 and B737MAX equipment on longer routes traditionally served with medium-sized widebody planes is shrinking belly capacity, which can be compensated by the use of freighters.
AC is looking to add four freighters to its line-up this year. The first converted 767 arrived in December and has been serving Frankfurt and several Latin American destinations. The second B767BCF is due to get going next month, to serve Cologne, Istanbul and Madrid, and add a second weekly flight to Frankfurt. In addition, Air Canada recently began to fly its freighter to Halifax and will add St John's next month.
"We'll continue to add robustness to our current markets, then expand our Canadian presence and connect dots internationally," Mr Berry said.
While the cargo division is letting go of the cabin freighters, the expansion of AC's passenger network is boosting belly capacity in international markets. The airline aims to boost its seat capacity by about 150% from last year, which should bring it to 75% of its 2019 levels. Management was encouraged by the first quarter results, which saw operating revenues more than triple, reducing the operating loss from C$1.05bn a year ago to $550m.
For more air cargo, listen to this clip on the latest Loadstar Podcast of Glyn Hughes, director general, TIACA, on why air cargo supply and demand balance won't return until 2025.