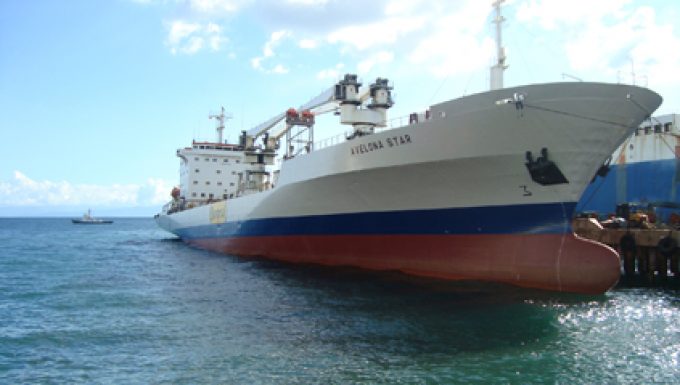 Conventional reefer carrier Star Reefers sailed dramatically into the red in the third quarter, blaming reduced demand and "aggressive" competition from container lines.
Oslo-listed parent company Siem Shipping reported a net loss of $1.9m, after a net profit of $2.5m in the same period in 2015.
Its 30-vessel fleet generated gross revenue of $41.5m, down from $49.3m.
Star Reefers, a major player in banana shipping, said spot market activity had been low, with only 13 fixtures reported from the east coast of Central America, while the average spot market rate was $0.33 per cubic foot, down from $0.40 for the same period last year.
"Military activity and political unrest in key destination markets in the Eastern Mediterranean and Black Sea have significantly depressed demand for imported fruits," Star Reefers said.
"This reduced demand, combined with aggressive container line activity in the Ecuador-Mediterranean tradelane, has reduced demand for specialised reefer vessels on this previously important route."
Despite the spot market only making up a small part of international banana trades, with the bulk of cargoes now transported under fixed contracts, container lines armed with increasingly advanced reefer and atmosphere control technology are actively pursuing spot market volumes.
"The container lines are learning, adjusting and accommodating the banana spot market by offering more destination ports and reducing the risk for shippers," said Raul Saca, global head reefer segment, bananas & pineapple at Maersk Line.
Star Reefers said that while the upcoming Moroccan and Spanish citrus seasons could boost freight rates, some major exporters were choosing to containerise their US-bound exports because box lines were showing "no sign of easing up on their aggressive pricing of reefer cargo".
It added: "With such light activity, the spot market is expected to remain volatile. The demand outlook appears weak with no end in sight for the sanctions imposed on Russia or military activity in Syria.
"It seems very likely, in such circumstances, that some owners will choose demolition over continued trading for older units, which may bring relief from the otherwise gloomy picture."
According to Frans Waals, Dynamar senior port and shipping consultant, the prospect of increased scrapping will depend on further market deterioration.
"At the moment, as long as they can generate money, conventional ships continue to trade. Four ships have been scrapped this year so far and only the ones technically unfit are sent for demolition.
"This may increase if the market remains totally depressed, but as more than 75% are currently younger than 30 years old, a scrapping peak is not expected yet, unless those guys really go into crisis."
Mr Waals noted that Star Reefers faced significant exposure to container line competition since they mostly operate large ships deployed on banana trades. On the other hand, he contended, smaller ships usually employed in the meat and fish trades were in a much better competitive position.
"The amount of cargo carried by conventional reefer ship operators has remained more or less the same for years – all growth is absorbed by container carriers," he added.
"It is difficult for conventional operators to stop this process. Seatrade, the biggest conventional operator, has basically given up on the larger segment and is switching to full reefer containerships, while in the small segment it is upgrading its conventional tonnage."
While Star Reefers maintains its strategy is to remain a leading specialist reefer operator, the carrier has also diversified into the car-carrier sector and will receive the first delivery of five 7,000 ceu (car equivalent units) pure car carriers in 2017.