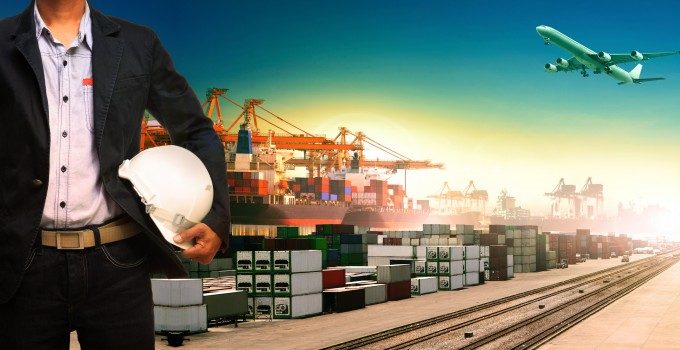 A recent SCM World report into the future of retailing – both of traditional High St and out-of-town superstore types, and the emerging e-commerce model – presented a confusing picture for those trying to peer into the crystal ball for future logistics requirements.
It's no surprise – the world is in such flux at the moment, particularly the high-tech consumer sector, where the speed of development is so breathtakingly fast that it's disruptive, against a backdrop of extreme economic unpredictability.
So The Loadstar decided to go and ask the specialists, a quest that serendipitously coincided with ModusLink opening its new expanded facility in the Czech city of Brno. ModusLink is hardly a household name, even in the comparatively small sector of logistics, but almost every one of its customers are, as it focuses almost exclusively on the high-tech electronics supply chain – its customers operate some of the most complex supply chains in existence, a lot of which goes on behind a curtain of secrecy.
The Loadstar was requested to sign a non-disclosure agreement stating that a significant portion of the brand-names it saw in the new facility cannot be revealed to readers.
(Sorry, all things being equal, The Loadstar doesn't fancy being asked to put in an appearance at the Leveson enquiry on journalistic standards in London, but for the record, here are the brands they serve that we can mention: Hewlett Packard, AMD, TomTom, Cisco, Toshiba, Sony, Provocraft.)
The Brno site features a type of highly advanced contract logistics operation that makes it part warehouse, part factory. Beside the rows of high racks storing electronic consumer goods are areas where ModusLink runs pre-delivery-to-retailer services, such as configuring the different languages for computer keyboards in different European countries, or the final packaging prior to delivery to the end consumer.
This 33,000 sq metre facility alone handles about 72 million individual shipment units a year; 63 million of which ModusLink will have had some hand in the final postponement or assembly configuration.
In terms of transport from the site, it's all about road freight – operations manager John Heffernan claims that every European capital is two days away, or one day by express delivery. The planned freight is hubbed through depots in Nuremburg – anything between three and eight full truckloads leave ModusLink Brno each day.
On the inbound side, a lot of the core devices such as cameras and GPS come in as air freight, explains senior marking VP Lorcan Sheehan. "But by doing the final assembly here a lot of the accessories can be put on the ocean – there are less frequent changes to those accessories; and there is a lower inventory value of that so you can afford to have that inventory on the ocean for six weeks."
Take a typical digital camera as an example. "The camera itself is about 90% of the value of the product, but only constitutes about 30% of the dimensions of the package," Mr Sheehan says. "So you want that 90% by value going as quickly as possible, but the remaining 70% of the shipment's size, such as packaging and printed materials, can either be sourced locally, or for some of the really lower value items you put them onto the ocean. That gives you a neat economic saving and the flexibility to do local configuration for the markets here in Europe."
Freight traffic aside, the core business of the facility is matching the rapidly changing levels of demand to supplies of product.
Mr Sheehan says that manufacturers are looking for more "channels", and to engage more closely with those channels, migrating from purely dealing with distributors to servicing the needs of larger retailers across Europe, and engaging with them more directly.
"It's less about cost and more about becoming part of the retailers' cycles, such as their promotional cycles; how do you work with them and fulfil requirements – if you are working with a distributor you are one of a number of brands working with that distributor; if you are working directly with the retailer you can understand exactly what their requirements are and you have better chance of selling through with them," he said.
Of course, with the advent of disruptive e-commerce activities, retailers themselves are in the middle of a step-change. However, there are some discernible trends.
"We see the retailers looking to smaller shop footprints, but still serving customers through those footprints, which results in more frequent replenishment which means closer access to distribution centres and potentially smaller loads but altogether faster throughput."
At the same time, there is a greater consolidation of retailers – the larger ones are becoming a larger percentage of the market, which are more attractive for manufacturers to engage directly with.
"Instead of dealing with 5,000 retailers to reach 10% of the market, it is preferable to deal with one or two retailers that reach the same percentage," he added.
So when economists and observers talk about a return to manufacturing in Europe, it is actually a far more complex reality. If the total cost of a product is a combination of materials, logistics, conversion and inventory, then transferring some of those activities to Europe and away from the lower costs in Asia can have its advantages, particularly given the way in which labour costs in China are rising so quickly.
"In Brno we can lower inventory costs because you're planning at a "family" level. You're effectively shipping less product because you are only shipping the high value product by air; you are paying a higher labour rate by employing in Europe, but that is offset by decreased logistics and inventory costs."